Jammu
PM Modi is the Messiah of New J&K: Vibodh 
PM Modi is the Messiah of New J&K: Vibodh
POONCH TODAY NEWS
RAJOURI:  In an impressive function, many prominent muslim  joined BJP in the presence of senior BJP leader Vibodh Gupta.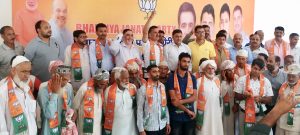 They expressed their faith and support to  PM Narendra Modi's new J&K and said that the only reason to join BJP is development as without development no nation can survive. While addressing the gathering, Gupta said that development is the overriding concern of all and all sections of society are willing to shed their support to BJP under the magical leadership of India's most loved Prime Minister. Lauding the vision and resolutions of  PM Narendra Modi, he called him the Messiah of New J&K. He strongly asserted that BJP's top priority is to construct a prosperous and strong J&K which will be self-sufficient and terrorism free. Contrary to popular perceptions, Vibodh claimed that Muslims are willing to support and vote BJP in large numbers in the forthcoming assembly elections looking at the commitment of BJP led central government to promote developmental works. "This is an excellent example of how public mindset can be changed by hard work", he added. Vibodh also hailed centre government's foreign policy and said that along with Pakistan, China is also feeling vulnerable and isolated from the globe. He said that all major superpowers and international organizations have extended their backing to India which is our decisive victory against terrorism and Pakistan.
Vibodh bluntly criticised the henious act of killing of two innocent Gujjars by terrorists and extended his solidarity with the aggrieved families. He said, "J&K will together fight with the enemies of peace and they are counting their last breath in the valley". District President Dinesh Sharma also hailed central government for landmark changes in J&K which he termed as revolutionary changes. He said that people of J&K are celebrating the abrogation of Article 370 and joining BJP in large numbers. Other prominent leaders who were present on the occasion were Rajinder Gupta, Kamal Bakshi, Subash Sharma, Talib Mir, Ashwani kochar, Ranjit Tara, Abdul Gani Shawl, Asif Choudhary, Mohd zahid, Mohd Azim, Sanjay Sharma, Jasbir kumar,kewal sharma and others.