Jammu
Massive protest  at Poonch against Hurriyat leaders, Principal Boys Hr. Sec. School by students
Massive protest  at Poonch against Hurriyat leaders, Principal Boys Hr. Sec. School by students
POONCH TODAY NEWS
POONCH: Chanting slogans against few Hurriyat leaders of Poonch and Principal Boys Higher Secondary School Poonch, hundreds of students of Boys Hr. Sec school Poonch today staged a massive protest at Nakhan wali chowk and blocked vehicular traffic for half an hour.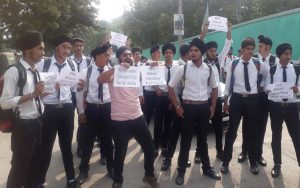 Carrying placards depicting slogans "Hurriyat leader Kamaljeet Singh Hai Hai", "Principal Boys H.S.S. hai hai, "We want Hockey turf", students said that after a long time, government blessed Poonch with world class hockey turf, but Principal Boys H.S.S Poonch is playing a conspiracy and is working against government's policy of promoting sports culture for students by using Hurriyat leaders of Poonch to create problem in laying of Astroturf hockey field at Poonch. They said that Principal has already signed the MOU with the government, but behind the curtains, he is using Hurriyat leaders who are trying to disturb the peaceful atmosphere of Poonch with their anti development character. Appealing government to take action against Hurriyat leaders for their anti development activities and to transfer incumbent Principal Boys HSS Poonch, they said that Poonch deserve hockey turf because Poonch hockey has remained at No 1 and no 2 in state hockey and has produced thousands of state and national level players. Thanking department of youth services and sports for its proposal of hockey turf, students said that Director General Youth Services and sports has taken a historic decision  by providing hockey turf in the premises of Boys HSS Poonch.  Ankit, a student, said, "Senior citizens  of Poonch, sports lovers, intellectuals, students  have welcomed the decision of the government regarding  laying of  astro turf in school premsies, but Principal has used  Hurriyat leaders, who are having a bad history of working against the nation, and are trying to create disturbance in Poonch city and we want government to take action against them by booking them under PSA". Gurjot, a young hockey player said, "Boys higher secondary school is the first school in the state to get hockey turf but its unfortunate that few anti social elements which include hurriyat leaders and a government Principal are working against government policy of promoting sports".
Damanpreet, said, "We thank DC Poonch Rahul Yadav and SSP Poonch Ramesh Angral for their support to sports activities, but its shocking that Principal of the school is working against the government by using Hurriyat leaders".  Saqib Mughal, said, "If we get this turf, then I am sure that Poonch hockey will produce national and international players from Poonch and government should install in sooner than later in school premises". Raising slogans "Hurriyat leader Kamaljeet Singh  hai hai", "Principal Boys HSS hai hai", they said that government should accelerate the process of laying of astro turf in the best future of Hockey Poonch and for the future generations. They also appealed administration to take action against Principal and Hurriyat leaders for their anti government agenda.  Later, Police rushed to the spot and assured the students that their demands will be look into on priority. After that, students called of their protest.