Jammu
DDC Poonch flags off 'Fit India Freedom Run'
DDC Poonch flags off 'Fit India Freedom Run'
POONCH TODAY NEWS
POONCH: District Development Commissioner Poonch, Rahul Yadav, the other day, flagged off the 'Fit India Freedom Run' marathon which witnessed huge participation of the youth.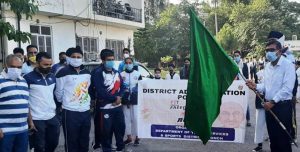 The event was organised as part of the Fit India Mission by the Ministry of Youth Affairs and Sports in collaboration with the Directorate of Youth Services & Sports, Government of JK UT.
The 2 KM run started from DC Office and culminated at Sports Stadium while passing through Bus Stand Poonch.
In the Stadium, the children were made aware about the physical fitness and informed about the symptoms of COVID-19. They were advised to wear mask, avoid public gatherings, wash hands frequently and maintain social distance. Hundreds of enthusiastic runners including Taekwondo athletes participated in the event. Speaking on the occasion, the DDC said the essence of Fit India campaign is to educate people about physical fitness which ultimately makes one mentally strong. He said one must include physical activity such as jogging, brisk walk, running as part of daily routine. The addition of a fitness regime in daily routine boosts the immune system and lowers the risk of developing medical complications, added the DDC.
It is pertinent to mention here that 'Fit India Freedom Run' is a part of Fit Indian movement started in the year 2019 a nation-wide movement to encourage people to remain healthy and fit by including physical activities and sports in their daily lives. Among others present were Incharge DYSSO Qasim Hussain, ZPEO Narinder Singh, Referee of Taekwondo Rajinder Singh, PEM Vijay Kumar, Activity Incharge Amrish Kumar, Lecturer Pawan Kumar, REK Parvaiz Malik, PEM Harjeet Kour besides other officers/officials were present on the occasion.