Jammu
B2V3 activities conclude in 92 Panchayats of Rajouri district; Bipul Pathak listens to people's issues at Rehathal
B2V3 activities conclude in 92 Panchayats of Rajouri district; Bipul Pathak listens to people's issues at Rehathal
POONCH TODAY NEWS
RAJOURI: The concluding day of the first phase of third edition of mega developmental festival – "Back to Village " ended here with multifarious activities held in 92 Panchayats.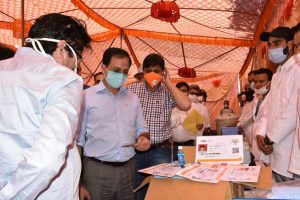 As a part of this unique public interaction programme, Principal Secretary Social Welfare and Information Technology, Bipul Pathak listened to the people's issues at Rehathal Panchayat as the visiting officer. He interacted with the people from all sections of the society who sought augmentation of water and power supply, improvement of health and education sector, road connectivity etc.
The visiting officer documented the grievances projected during the gram sabha and assured to early redress their genuine issues and demands.
Special Mahila Sabhas and Bal Sabhas were also organised on the occasion whereat women and youth apprised the visiting officer about the day to day issues and their needs. Awareness on women centric schemes and laws safeguarding the rights of women and children were also imparted during the programme. The visiting officer urged upon the Sarpanches, panches and senior citizens to actively perform their participatory role in the plan formulation for the effective development of their areas.
The Principal Secretary on the occasion distributed sports kits and skill development kits among the adolescent girls and youth respectively. He also distributed 26 labour cards,09 golden cards,15 domicile certificates among the beneficiaries. Meanwhile the visiting officer also handed over a cheque amounting Rs 2.05 lakh under JKBOCWW scheme to a women named Maqsud Begum whose husband Mumtaz Hussain, a labour died in an accident. Mr Pathak also laid the foundation stone of 500 m road from Takia to Kalla to be executed by the RDD department.
Meanwhile, "Back to Village programme activities were also held in other panchayats in the district. The designated officers visited assigned Panchayats and organised Gram Sabhas attended by Sarpanches, panches, senior citizens, women and youth. They projected public and individual issues and demands. The visiting officers documented all the grievances and assured early redress. The visiting officers also inaugurated a number of developmental works completed by different agencies. The Grah Pravesh ceremonies of the houses completed under PMAY were also organised in which the visiting officers handed over the keys of the houses to the beneficiaries.