Jammu
People want development and 51.76% voting in first phase of DDC elections justifies that
People want development and 51.76% voting in first phase of DDC elections justifies that
SALIL RAINA
(POONCH TODAY NEWS)
POONCH: For the first time after 1947, elections to District Development Councils are being held and first phase was completed yesterday in which more than 51.76% people participated and this is a clear indication that people of J&K want development and nothing else.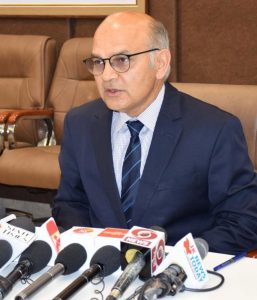 In Poonch and Rajouri district, there was a record 68.69% and 70.52% polling respectively. In both the districts, people were keen to cast their votes amid cold weather conditions at some places. It's a clear fact that valley based political parties, which ruled J&K for decades never allowed flourishing of Panchayati Raj system fully, but after the emergence of Modi 2.0, elections to Block Development councils were held last year and to complete the three tiers of Panchayati Raj, DDC elections have started. Even, anti national forces tried to direct people not to participate in DDC election, but massive participation of people gave a clear indication to those forces that Ballot is more powerful than the gun. In the first phase, polling was held for 25 constituencies of Kashmir valley and 18 constituencies of Jammu region. There are 280 constituencies in entire J&K UT and polling for remaining constituencies will be completed in seven more phases. After the successful completion of first phase, addressing media, State Election Commissioner K.K Sharma, informed that the first phase of District Development Council elections has been conducted successfully in UT of J&K that recorded 51.76% polling. Polling has been by-and-large peaceful in 43 constituencies of DDC that went to polls today in which 3,62,766 voters including 1,93,375 males and 1,69,391 females out of 7,00,842 voters, voted to choose their representatives in their respective councils, the SEC maintained.  The SEC further informed that the Reasi District recorded the highest polling at 74.62 percent followed by Rajouri District at 70.52 percent and Poonch with 68.69% polling. In Kashmir Division, Budgam district recorded highest polling at 56.96 % with followed by Kupwara District at 50.74% and Ganderbal with around 48.62% polling.
Giving the district wise details about the DDC, the SEC informed that in Kashmir Division, the polling percentage recorded in Bandipora was 43.57%, Baramulla 32.51%, Srinagar 33.76%, Pulwama 6.70%, Shopian 42.58%, Kulgam 34.35%, Anantnag 43.32% voters casted their votes. Similarly, in Jammu division Kishtwar has voting percentage of 55.16%, Doda 64.49%, Ramban 64.21%, Udhampur 57.13%, Kathua 62.82%, Samba 68.61% and Jammu 61.49% people exercise their right to franchise during first phase of elections. Once completed, people at grass root level would be able to play an active part in the process of development. J&K UT government has made all types of arrangements for the peaceful and smooth conduct of DDC elections.