Jammu
PM Modi Being Appreciated by Global Community for Leading Fight Against COVID  : Vibodh 
PM Modi Being Appreciated by Global Community for Leading Fight Against COVID  : Vibodh
POONCH TODAY NEWS
RAJOURI: BJP State General Secretary and former MLC Vibodh Gupta today conducted an extensive tour of many remote and far-off villages of Rajouri. During this tour, he visited Gambir Brahmana, Patrara, Irva Khetar, Sadyal, Mankote, Kriyaan, Mubarakpura, and Dharamsal. While addressing locals in these villages Vibodh called upon the locals to remain vigilant and keep following COVID-19 appropriate behavior. This he said is important as the threat of COVID is still there. During these visits, Vibodh also took stock of preparations for a possible 3rd wave of COVID.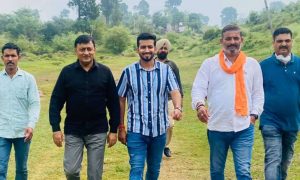 While referring to the ongoing development activities Vibodh said that during the peak times of COVID-19 also development activities went on even in far-off and remote corners of India. While making a mention of roads in the villages he visited, Vibodh said that in a single day he could visit so many villages just because of good roads in these areas. This he said is the best visible indicator of holistic and inclusive development activities initiated by the central Government under the able leadership of PM Modi.
On this occasion, Vibodh informed that because of his hard work and dedication recently PM Modi toped the ranking of global leaders in a survey by American data intelligence firm. The Leaders of 13 countries including America, Britain, Russia, Australia, Canada, Brazil, France, and Germany were included in this survey.
This is a historic and proud moment for every Indian, Vibodh added. While calling upon the BJP leaders in these villages Vibodh said that recently PM Modi has announced a series of welfare measures for the COVID-19 victims and now it is the duty of these leaders that they should regularly publicize these welfare measures so that all the deserving people are benefited from these welfare schemes.
Prominent among others who accompanied Vibodh during these visits included Rajeet Tara,Sanjay Dutt,Sanjay Sharma,Rajan Sing,Yogesh Sharma,Makhan Singh and others.