Jammu
Ashok Koul chalk out strategy with BJP J&K IT Department for upcoming assembly elections in J&K
Ashok Koul chalk out strategy with BJP J&K IT Department for upcoming assembly elections in J&K
POONCH TODAY NEWS
JAMMU: : Bharatiya Janata Party, Jammu & Kashmir Information Technology Department meeting was held under the leadership of Department Head Advocate Ishant Gupta and was chaired by Ashok Koul BJP J&K General Secretary (Org.), in the Office of BJP Information Technology (IT) Department, J&K at BJP Headquarters, Trikuta Nagar, Jammu.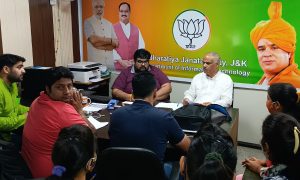 During the meeting, Ashok Koul chalk out the strategy with the IT Team for upcoming assembly elections in J&K. He was appraised by the department head Adv. Ishant Gupta about the present working structure of the department and also presented a detailed presentation. Ashok Koul said that today, the world uses new technologies with the aim of improving the electoral process. These technologies range from the use of bulk connectivity platforms, data processing tools, such as database management systems, optical scanning and geographic information systems. He said that the Information Technology Department has to work like a backbone to the party and have to play a major role in the upcoming assembly elections. He further told the office bearers of the IT Department to gear up the work so that we will be able to achieve our mission and the next Chief Minister will be from Bharatiya Janata Party.
Adv. Ishant Gupta said that the meeting was very informative. He said that all the team members of the IT Department across J&K are working tirelessly and the work assigned to them was done in full swing. He assured that with the commitment and dedication of the whole team of IT, they will definitely be going to achieve the desired goal. BJP J&K IT co-Incharges Adv. Varun Gupta & Ajay Anand, Makson Tickoo, Rohan Slathia and others were also present at this moment.