Kashmir
The impressive deliberations and brainstorming on the implementation of Science and Technology interventions will be a big step towards making J&K a modern and self-reliant UT: LG
The impressive deliberations and brainstorming on the implementation of Science and Technology interventions will be a big step towards making J&K a modern and self-reliant UT: LG
POONCH TODAY NEWS
SRINAGAR, SEPTEMBER 19: Lieutenant Governor Manoj Sinha addressed the valedictory session of one day workshop on CSIR initiatives for Science & Technology led development in J&K UT, inaugurated by Dr. Jitendra Singh, Union Minister of State for Science and Technology, Earth Sciences, and DoPT at SKICC here. While inaugurating the workshop Dr. Jitendra Singh said that as every sector is increasingly becoming dependent on technology, awareness among stakeholders is essential for optimum outcomes.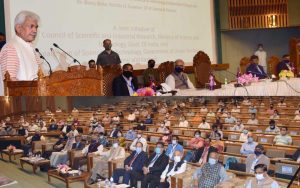 "Science & Technology is the priority sector of Prime Minister Narendra Modi and under his dynamic leadership there is a visible change in this field", Dr. Singh added. Speaking on the occasion, the Lt Governor expressed gratitude to Sh Jitendra Singh, for bringing together the scientists of the premier institutes of CSIR, and taking initiative for accelerating J&K's development through the intervention of science and technology.
The Lt Governor observed that the impressive deliberations and brainstorming on the implementation of Science and Technology interventions will be a big step towards making J&K a modern, safe, self-reliant and prosperous UT.
"Technology is evolving at an ever-faster pace today. Science and innovation have huge power to meet the new demands in agriculture, environment, industries & even building affordable housing in rural areas. With right interventions, we will lead J&K on the path of development and prosperity", he added. The Lt Governor said that it is our responsibility to unleash the long-repressed creativity and business drive of the people and that can only happen with enhanced contacts between CSIR scientists and the common masses. "The technologies developed by CSIR will be implemented in Jammu and Kashmir to maximum possible extent so that works like Purple revolution of Lavender cultivation under the Aroma Mission can be implemented in other areas across the UT", he added.
Recalling his recent meeting with Dr. Shekhar C. Mande, DG- CSIR, and Dr. D. Srinivasa Reddy, Director, CSIR-Indian Institute of Integrative Medicine, the Lt Governor said that he had asked them to organize a brainstorming on identifying the technologies available with CSIR for their implementation in the J&K. Terming lavender cultivation as Purple Revolution of Jammu and Kashmir, the Lt Governor said that it has happened with the help of science and technology. Lauding the efforts behind these initiatives, he hoped that through such interventions of science and technology, not only will we get effective control over various problems in the villages and cities but also convert it into an opportunity for the development of J&K.
The Lt Governor observed that the speed with which the technology is changing and the ease with which it is available; will make any region socially and economically progressive with effective implementation.
"I am reminded of the anti-gas cloth, one of the inventions of CSIR founder Dr. Shanti Swarup Bhatnagar. The one invention saved so many lives during World War II. Dr. Bhatnagar always emphasized on the practical utility of science. From the birth of the oil refinery to the development of manganese ore, it was all possible because of him, since he passed the technology from the lab to the field and brought about revolutionary changes. I hope that the same legacy will be carried forward", added the Lt Governor.
The Lt Governor urged the experts to look at the challenges specific to Jammu & Kashmir in the areas like agriculture, infrastructure, waste management, industrial development, ecology conservation, urban planning, etc due to its unique geo-climatic conditions.
While referring to National Environmental Engineering Research Institute's efforts for the revival of three completely disappeared lakes in Bangalore, he asked the concerned to explore if the same, cost-effective technology can be implemented in lakes like Dal, Wular, Jhelum, Nageen.
He mentioned about a recent initiative of CSIR and Central Road Research Institute (CRRI) in collaboration with IIT Hyderabad and Intel, leading to a solution-driven by Artificial Intelligence, which could reduce road accidents substantially. He called upon the CSIR scientists to work in the areas like recycling of the material used in the construction of roads, and Cold Mix Plant based technology instead of Hot Mix Plant for longer life of roads in regions like Jammu and Kashmir. "We also need scientific interventions in rural housing, food technology, processing and value addition of medicinal and aromatic crops", he added.While quoting former Prime Minister Bharat Ratna Atal Behari Vajpayee, the Lt Governor said that those associated with science and technology should work closely with the craftsmen, artisans of the lower level and help them achieve the full potential of their natural creative skills.
He also quoted Hon'ble PM Sh Narendra Modi saying that science and technology should help address the issues of the poorest. Since 70 percent of the J&K's population is dependent on agriculture and more than 4 lakh women are associated with self-help groups, besides a large population associated with the handicraft sector, if we get the scientific and technological support in these sectors, we will be successful in taking J&K in the direction of rapid development, improving common man's life, he said.
"What CSIR has done so far in Jammu & Kashmir, I consider it as a huge scientific breakthrough for the UT. Now it is time to divide the different scientific and technological properties for a larger impact on growth in different sectors, concluded the Lt Governor.
On the occasion, Secretary, DSIR and Director General, Council of Scientific & Industrial Research, Dr. Shekhar C Mande delivered a presentation of Science & technology led initiatives. He gave a brief about the support to infrastructure development in J&K under the Purple (lavender) Revolution in J&K through floriculture activities. Dr. Shekhar C. Mande, DG- CSIR; Dr. D. Srinivasa Reddy, Director, CSIR-Indian Institute of Integrative Medicine, Jammu; Dr. Ritesh Vijay, Director, CSIR-NEERI besides team of Scientists of CSIR participated in the one day workshop.
Dr. Arun Kumar Mehta, Chief Secretary; Shri Alok Kumar, Principal Secretary to Government, Science & Technology Department besides vice-chancellors of J&K Universities, senior scientists, professors and officers from UT administration were also present on the occasion.