Jammu
Chief Engineer R&B Jammu reviews performance of department in Rajouri, Poonch districts
Chief Engineer R&B Jammu reviews performance of department in Rajouri, Poonch districts
POONCH TODAY NEWS
RAJOURI, SEPTEMBER 19: Chief Engineer PWD(R&B) Jammu, Manzoor Hussain  took a comprehensive review of the functioning of the Works Department in Rajouri and Poonch districts, here at a meeting of the concerned officers.The meeting was attended by SE PWD, Javaid Maqbool; ExEn PWD Rajouri, Maqbool Hussain; ExEn PWD Nowshera, Bikram Singh; ExEn PWD Poonch, Pervaiz Ahmed and concerned AEEs.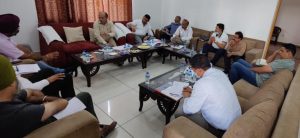 During the meeting, the Chief Engineer took a detailed assessment of the physical and financial progress of works being executed in the twin districts under different schemes including NABARD, State sector, Languishing Project, City and Town etc. The concerned Executive Engineers gave a detailed resume of the progress and the future work plan of under construction projects.Detailed deliberations concerning the bottlenecks/major issues impending the pace of progress were also held in the meeting.
The Chief Engineer directed the officers to ensure that all the projects are completed within the set time frame, besides he also asked for maintaining transparency in the execution process. He directed the Engineers to devise an effective mechanism for daily monitoring of projects to achieve the targets timely. Asking for resolving the developmental bottlenecks timely, he asked the department to maintain close coordination with the district administration for seeking its intervention where ever required. He also cautioned that any kind of laxity in completing the works within the set timeline will not be tolerated at all.