Jammu
Udhmapur: Agriculture Department hosts webcasting of PM's address, sensitises farmers about CSSs
Udhmapur: Agriculture Department hosts webcasting of PM's address, sensitises farmers about CSSs
POONCH TODAY NEWS
UDHAMPUR: The Department of Agriculture Production and Farmers' Welfare hosted webcasting of the transfer of benefits of 10th installment under PM Kisan Samman Nidhi Yojana by Prime Minister here at Conference Hall of Sub divisional Agriculture Office, Kallar Udhampur.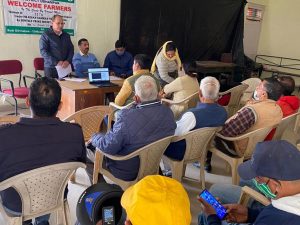 The event was chaired by Agriculture Extension Officer Shiv Parshotam Jyoti.
On the Occasion, the farmers were told to get the eKYC of their PM- Kissan accounts done as early as possible to avail the benefits under this scheme in future. Besides this, the farmers present were made aware of various CSS schemes implemented for development and uplifting of the farming community and to achieve the Prime Minister's vision to double the Income of Farmers by the year 2022. The farmers are already being benefitted by various centrally sponsored schemes like SMAM in which the farmers can obtain govt. assistance to upgrade their Mechanized Agricultural Inputs, KCC, Kissan Mandhan Yojana in which farmers from the age of 18 to 40 years can make small investments to take advantage of pension benefits after attaining 60 years of age.
The Farmers were apprised about the benefits of adopting composite farming to uplift their socio financial status and the benefits of organic farming. They were apprised of mushroom cultivation and bee keeping.
Varinder Mohan (Technical Officer To Sub Divisional Agriculture Officer Udhampur), Zonal Heads of all the zones of Sub Division Udhampur, Jr. Agriculture Extension Officers, Agriculture Extension Assistants Of various Panchayats along with farmers from various Panchayats were also present on the occasion.