Jammu
DDC Poonch chaired a meeting to discuss and finalize the plan for organising SANKALP SAPTAAH in Block Mankote.
DDC Poonch chaired a meeting to discuss and finalize the plan for organising SANKALP SAPTAAH in Block Mankote.
POONCH TODAY NEWS
Poonch, Sept. 25, 2023: District Development Commissioner Poonch chaired a meeting to discuss and finalize modalities for organising  SANKALP SAPTAAH in Block Mankote which will be organised  from 3rd to 9th of Oct, 2023. It is pertinent to mention that Block Mankote is selected as one of the Aspirational block in the UT of Jammu and Kashmir by the NITI Aayog.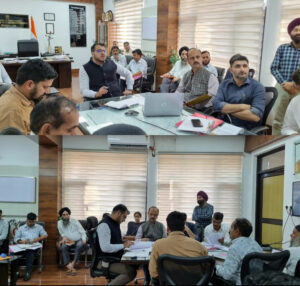 During the meeting, It was told that Hon'ble Prime Minister will formally launch this Programme on 30th September, 2023 from New Delhi and in which Panchayat representatives, locals and Officials from Block Mankote will physically attend the programme at New Delhi while the locals and other officers of the district administration will connect through virtual mode from the Auditorium of Degree College Poonch. Under the Sankalp Week, health fairs will be organized on 3rd October in health and wellness centres, primary and community health centers under the Total Health One Sankalp programme. Suposhan Mela will be organized on 4th October under Well-Nourished Family.  There will be competitions on cleanliness campaign on 5th October.  Agricultural festival will be organized on 6th October. There will be competitions in primary and secondary schools on 7th October.  Information regarding livelihood generation schemes will be given on 8th October.  Sankalp Week Inclusion Conference will be organized on 9th October. Speaking on the occasion, Deputy Commissioner  told that the theme of  Sankalp week in the Aspirational Block Mankote is on Livelihood generation schemes particularly of Animal and Sheep  Husbandry departments. He emphasized that it is an important opportunity to make Mankote block of our district a model block. He further emphasized to focus on those indicators in which less progress has been achieved and work on them rapidly by making small targets.   He said that all the departments should prepare for the Sankalp Saptah at their own level. Also, all the departments were directed to coordinate with public representatives of the block to make this ambitious plan successful. The meeting was attended by Additional District Dev. Commissioner Poonch, Programme Officer ICDS Poonch, Assistant Commissioner Development Poonch, Chief Medical/ Education/Agriculture/Horticulture / Animal Husbandry Officer Poonch, District Sheep Husbandry Officer Poonch, Executive Engineer PWD (R&B) Division Mendhar,  Executive Engineer PMGSY Division Mendhar, Executive Engineer Jal Shakti (PHE) / JPDCL Division Poonch, District Social Welfare Officer Poonch,  Block Dev. Officer Mankote along- with the Block Level Officials of concerned Departments,  District Lead Bank Manager Poonch and District Project Officer NRLM Poonch.