Jammu
Ganpati Visarjan Shobha Yatra taken out
Ganpati Visarjan Shobha Yatra taken out
POONCH TODAY NEWS
POONCH: An Impressive Shoba Yatra of Ganpati Visarjan was taken out from power house mohalla Poonch with fervour and gaiety.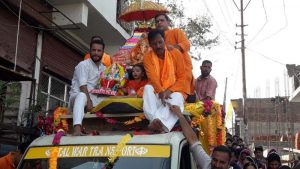 A large number of people including men, women and children drawn from different parts of the Poonch city participated in the Yatra amid chanting of religious mantras. Earlier, in the morning, Puja of Ganesh Ji was performed according to Vedic and Sanatan rituals at power house temple.
The Shobha Yatra started from power house temple  and after passing through Main bazaar, Parade chowk, Nakhan wali chowk, Police station chowk, S.K bridge road, reached Pulasta river where Idol of Lord Ganesh was immersed in the river amid chanting of Ganesh mantras. Earlier DDC Poonch Rahul Yadav, SSP Poonch Ramesh Angral also took part in the Puja of Lord Ganesh and provided adequate security arrangements for the yatra. After the idol of Lord Ganesh was immersed in Pulasta river, the religious yatra came back to power house and this ten days long Ganesh festival passed off peacefully.