Jammu
Ashura procession taken out in Poonch, Jammu
Ashura procession taken out in Poonch, Jammu
POONCH TODAY NEWS
POONCH/JAMMU: To commemorate the martyrdom of Imam Hussain, thousands of mourners from Shia section of Muslims, the other day, joined the procession of Ashura which was taken out in Tehsil Mandi, Poonch and Jammu city.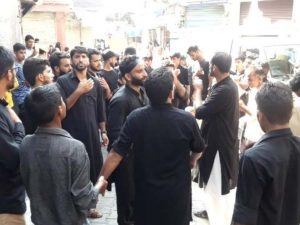 The mourners wearing black dress were wailing and beating their chests in memory of Imam Hussain who attained martyrdom in the battle of Karbala along with his 72 companions for uplift of truth and human values.
Reciting Nohas and Marsiah, the mourners passing through the Jama masjid bazaar, city chowk and after passing through different areas reached Imam Bargah Poonch. At Jammu, the ashoora procession after passing through different areas, culminated their procession at Karbala Complex where Majlis Sham-e-Ghariban was delivered by religious scholars. Prof. Sujat Ali Khan, Secretary Anjuman-e-Imamia, Jammu stressed that it is our duty to spread the message of Islam that has been gifted upon us by our beloved Prophet Hazrat Mohammad (SAW). He added Ashura gives a message to entire humanity that whenever truth or righteousness is being suppressed and evil or false hood is promoted, we should never forego our responsibilities even though we need to sacrifice our self for the cause. He also extended thanks to various organizations  and to all the prominent citizens for extending their full cooperation and support during the procession by installing different stalls as refreshment for the mourners. Similar procession was taken out in Tehsil Mandi of Poonch district. Adequate security arrangements were made by district administration Poonch, both at Mandi and Poonch. Moharram procession also taken out in other parts of Poonch and Jammu districts.
Several prominent personalities of Poonch paid tributes to the sacrifices of Imam Hussain for the brotherhood, peace and communal harmony.