Jammu
Statins along with lifestyle modification reverse CVDs burden: Dr. Sushil
Statins along with lifestyle modification reverse CVDs burden: Dr. Sushil
POONCH TODAY NEWS
JAMMU: Elaborating on the association between built environment characteristics and blood lipid levels by highlighting differentials between residents of urban and rural areas, Dr. Sushil Sharma, organised a day long medical camp at Shiv Hanuman Mandir with the residents of Dayaran village of Bhalwal Area.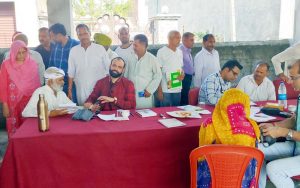 More than 250 people were screened, evaluated and diagnosed for various health ailments. Free medicines were also distributed as per the requirements. He apprised the common populace that elevated blood lipid levels are an established risk factor for cardiovascular diseases and contribute in a meaningful way to the global burden of disease. Globally, high total cholesterol levels are estimated to account for 4.5% of the total deaths. Dietary and physical activity behaviour is, in turn, influenced by built-environment characteristics that directly and indirectly facilitate or inhibit the maintenance of a healthy lifestyle. For instance, the availability, accessibility and affordability of food and fast-food outlets have been found to be associated with dietary behaviour, and the availability and proximity of opportunities to be physically active have been linked to leisure time physical activity. Hence, in their capacity to affect lifestyle behaviour, built-environment characteristics may be 'upstream' determinants of blood lipid level. High cholesterol, however, itself does not cause any symptoms so many people are unaware that their cholesterol levels are high. The variety of factors can affect one's cholesterol levels viz., diet, weight, exercise, age and gender, hereditary, medical conditions and medications, he emphasised.
Urban-rural differences in blood lipid levels may be prevalent due to several aspects: urban areas may generally score higher on walk ability as compared with rural areas, thereby facilitating light physical activity. This could have beneficial effects in terms of reducing blood lipid levels for those living in more rural areas. Also, it may be that adults living in exposure to unhealthy food (outlets) may differ across urban and rural areas, which may influence blood lipid levels via dietary intake. Systematic reviews that examined urban-rural differences in relation to other health outcomes reported that rural residence is associated with higher bodyweight and urban residence with higher risk/prevalence of type 2 diabetes and, in India, with higher prevalence of hypertension. Dyslipidemia has been closely linked to the pathophysiology of CVD and is a key independent modifiable risk factor for cardiovascular disease. While Asian Indians are known to have a unique pattern of dyslipidemia with lower HDL cholesterol, increased triglyceride levels and higher proportion of small dense LDL cholesterol, there have been no large scale representative studies on dyslipidemia to assess the magnitude of the problem in India.
Interestingly, urban communities had higher risk factor scores. Thus, the estimation of the prevalence of dyslipidemia will ensure proper planning of health care resources for both primary and secondary prevention of CVDs
Residents of the area Rajan Sharma, Subhash Sharma, Vishal Verma and Vinod Sharma appreciated the efforts of Dr Sushil and his team for conducting cardiac awareness camp in their area.
Others who were part of this humane effort included, Dr.Nasir Choudhary (Cardiologist) and Dr Dhaneshwar kapoor. Paramedics and Volunteers who were part of the team included  Vinayak Sharma, Manoj Sharma ,Akshay, Gourav Sharma, Kirtibhat, Manav Khurana, Kamal Sharma , Deepak , Gourav Gupta and Maninder Singh.