Jammu
Prevention and awareness needs to be a priority in rural areas: Dr Sushil
Prevention and awareness needs to be a priority in rural areas: Dr Sushil
POONCH TODAY NEWS
JAMMU: To commemorate the teachings of Swami Vivekananda on National Youth Day specifically emphasising His words that Service unto others is the service to God, Dr. Sushil Sharma and his team conducted a day long health awareness camp at Prem Nagar, Miran Sahib of RS Pura area.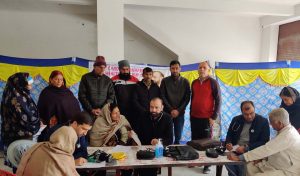 At the outset he appealed to all sections of the society especially youth to take lead as there is lot to be done in rural areas. Unbeknown to most of us, the disease pattern in our country in general and particularly in rural area has undergone a considerable shift over the past few years .He specifically cited the recent statistics that suggests that high blood pressure, one of the biggest risk factor for death worldwide, now affects one in five adults in rural areas. Findings also projected that the deaths in rural areas due to communicable diseases are almost matched by those due to non-communicable diseases. Certain chronic diseases such as coronary artery disease, strokes, lung diseases and cancers lead to deaths as well as disability in rural areas. Most importantly, coronary artery disease figured among the top five leading causes of DALYs (Disability adjusted life years) lost in current scenario, he emphasised.
Citing multiplicity of issues involved in paradigm shift of disease burden from urban to rural areas, Dr. Sushil said no doubt the burden of these ailments are immense but stressing on preventive aspects of cardiology is a viable strategy to mitigate the burden of CVD and other chronic NCD in rural areas. The collective factors viz., abnormal lipids, smoking, hypertension, diabetes militeus, abdominal obesity, psycho social variables and alcohol consumption needs early intervention so that they should not turn uglier enough to initiate the onset of chronic morbidities among common populace. There is very low awareness about these diseases in rural areas, leading to further challenges to inculcating lifestyle changes and prevention methods. Further, lack of systematic mechanisms to collect data on NCDs from rural areas also hampers efforts at measuring the intensity of the problem and monitoring them effectively. This would require healthcare policymakers to focus on awareness, developing healthcare delivery mechanisms, technology and affordability to tackle NCDs in rural areas. Further, Youth has a pivotal role to play at this juncture given the fact that they are much updated and energetic to aware the common populace regarding necessary preventive strategies to be taken and remedies available at local and regional level. Needless to say, prevention needs to be a priority.
Residents of the area Sh. Vijay Sharma, Subhash Chander, Suresh Kumar, Ravinder Kumar, Jagdish Lal and Davinder Sharma appreciated the efforts of Dr Sushil and his team for conducting cardiac awareness in their area .
Others who were part of this campaign include Dr Shahbaz khan and Dr Dhaneshwer Kapoor. Paramedics and Volunteers includes Kamal Sharma, Mohd Altaf , Gourav Heera, Vikas Kumar, Sandeep Kohli, Rajinder Singh, Suresh Baigra, Anmol Singh, Maninder Singh, Lovely Kumar, Kirtibhat and Rajkumar.