Jammu
One Day Conference organised at Jammu to celebrate birth anniversary of Hazrat Ali(A.S)
One Day Conference organised at Jammu to celebrate birth anniversary of Hazrat Ali(A.S)
POONCH TODAY NEWS
JAMMU: One Day Conference to celebrate the Birth Anniversary of Hazrat Ali (a.s) was organized by Anjuman-e-Imamia Jammu. The conference started with the Tilawat of Quran Pak. Chief Guest Of The occasion was Dr. Syed Kalbey Jawad Sahib where as Maulana Jalal Haider  and Syed Safdar Hussain Baqiri were the guest of honour.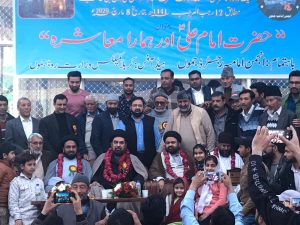 While welcoming the gathering Prof. Sujat Khan secretary Anjuman Said that Anjuman is 100 year old organization of Shia Muslims of Jammu which is organizing religious as well as social activities and played an important role in maintaining communal harmony and brotherhood among the masses. He further deliberated upon the history, working and goals of organization in building a healthy society. While addressing the Gathering Chief Guest Dr. Kalbey Jawad added that Hazrat Ali's name is imprinted in the history of the world as one of the most noble and wise rulers. He taught people to be gentle to each other and spread peace and love all around. People are often happy degrading and humiliating others. Maulana Syed Jalal Haider in his address said Hazrat Ali was a. epitome of qualities and loyality is one that quality that depicts in the character of Hazrat Ali. He said Hazrat Ali Quoted that Blessings are for the man, who earns by honest means, gives money in the Name of Allah, who can have good control over tongue and doesn't oppress others, doesn't add new clauses in Islam and has noble character.
While delivering the lecture Syed Safdar Hussain Baqiri said that Hazrat Ali was possessor of immense knowledge and wisdom. People used to approach him for guidance and knowledge. In his last teaching he said "be punctual for your prayer and fear Allah. Prayer is the pillar of Islam. So before you engage yourself in any daily activities, make sure you offer your prayer.
One of his most popular quotes is "Life has two days, one which is in favor of you, during this time don't be arrogant and one against you, be patient, this is your testing phase." Maulana Habib-ul-Rehman Also address the gathering.
Senior Journalist Sohail Kazmi also addressed the public and said that the teachings of the Hazrat Ali (a.s) are relevant till the mankind is alive. Rajesh Gupta Ex MLA also addressed the Gathering. While delivering the vote of thanks Syed Afaq Husaain Kazmi Vice President of Anjuman said that we are highly thankful to Anjuman-e-Haidery New Plots, Anjuman Baki-u-tullah Kargil colony bathindi, Anjuman Darey Batool Basthindi, ALMASAJ. Members of different anjumans of Poonch, Rajouri, Mandi, Surankote, Gursai etc. for participating in the conference and special thanks to Anjuman-E-Hussaini Bathindi for postponing their own program to make the program a success. He said we are thankful to print and electronic Media for giving their unconditional support to spread this message of love and peace to the masses. We are also thankful to the administration that they extend their full support to make this event a success in such a situation when the fear of the deadly virus is already haunting masses. Maulana Ali Badshah Imam Jummah Masjid Imamia conducted the proceedings of the program