Jammu
Chief Secretary reviews status of National Highway-44
Chief Secretary reviews status of National Highway-44
POONCH TODAY NEWS
JAMMU: Chief Secretary, B. V. R. Subrahmanyam, the other day, chaired a meeting to review status of restoration and repair works on National Highway at Dalvas near Nashri Tunnel which was damaged due to massive landslide resulting suspension of all vehicular traffic.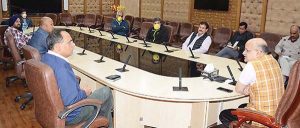 Principal Secretary, Civil Aviation, Rohit Kansal, IGP Traffic T Namgyal, Commissioner Secretary, Industries & Commerce, Manoj Dwivedi, Commissioner Secretary, PWD, Khurshid Ahmad, Divisional Commissioner, Jammu, Sanjiv Verma, Secretary FCS&CA, Simrandeep Singh, Regional Officer NHAI, J&K, Hem Raj and Project Director NHAI Ramban, Parshottam Phonsa participated in the meeting.
Regional Officer NHAI, J&K, briefed the Chief Secretary about status of restoration and repair works going on to clear the damaged stretch of 400 mtr. He informed that men and machinery is on job to clear the stretch but because of prevailing weather, the work could not be expedited.
IGP Traffic apprised the meeting that around 1800 trucks have been stranded on both the sides of National Highway due to the road blockade.
Chief Secretary directed the National Highway authorities to put in more men and machinery so that road clearance work is expedited and the stretch is opened for vehicular traffic at the earliest.
With regard to opening of Mughal Road for traffic and ongoing snow clearance works, Commissioner Secretary, PWD(R&B) informed the meeting that the snow cutting machines and other machinery has been put on task and soon the road will be cleared for movement of vehicular traffic.
Chief Secretary stressed on completion of snow clearance operations so that Mughal Road can be used as alternate road to supply essentials to Kashmir valley keeping in view of regular blockade of National Highway due to landslides and other natural causes.
Principal Secretary, Planning & Civil Aviation was asked to coordinate with Indian Air Force for emergency air services for airlifting of essential commodities to Kashmir if National Highway remains block for extended period.
Chief Secretary took stock position of essential commodities in Kashmir Division and directed Secretary, FCS&CA to prioritize essentials in case the need arise to supply the same through air service.
Besides, discussions were also held on using some other available roads for movement of trucks carrying essential goods to the valley. Chief Secretary asked Divisional Commissioner, Jammu to send team of engineers to conduct survey of Gool-Sangaldan-Dharamkund road and to submit a report on whether the road can be used and what kind of vehicles can be permitted to ply on this particular stretch to bypass damaged stretch of National Highway.
Meanwhile, Chief Secretary also reviewed lockdown restrictions in Jammu Division and directed Divisional Commissioner, Jammu, for ensuring implementation of the Government orders in letter and spirit to combat the coronavirus disease. He discussed prevailing situation in wake of lockdown orders and asked the Divisional Administration to closely monitor the situation and act accordingly.