Jammu
Team Jammu provides Ration to needy people
Team Jammu provides Ration to needy people
POONCH TODAY NEWS
JAMMU: Extending a helping hand, Team Jammu is providing dry ration to the needy people, who are unable to feed themselves because of the ongoing lockdown in the wake of COVID-19 outbreak.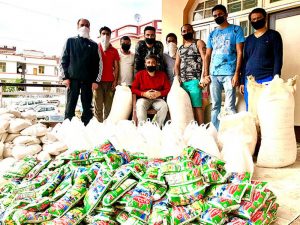 The Team Jammu members, led by Chairman Zorawar Singh Jamwal, have so far distributed more than one thousand ration bags to the needy people in various parts of Jammu city and its outskirts. For approaching the needy people at the time of complete lockdown, the Team Jammu is taking help of local Police.
According to Zorawar Singh Jamwal, the Team Jammu volunteers are collecting ration from those who want to help the poor and needy at this time of crisis and them these ration items are packed in bags keeping in view needs of each family. Thereafter, with the help of local Police, we go to different parts of Jammu and handover these ration packets to the needy families, who include locals and non-local labours.
Zorawar Jamwal said that the Team Jammu would continue its mission of serving needy people and more such families would be provided ration in the coming days as the ongoing lockdown will continue for the next two more weeks. He also appealed Jammu people to come forward for extending a helping hand to the needy families and donate generously at this hour of crisis. Team Jammu also appreciated the Health Department workers, Safai Karamchris, Policemen and those engaged in providing essential services to public during the lockdown.