Jammu
Saurabh Bhagat distributes masks, edibles among ISM workers
Saurabh Bhagat distributes masks, edibles among ISM workers
POONCH TODAY NEWS
JAMMU: Commissioner Secretary, Labour & Employment Department, Saurabh Bhagat, today distributed masks and food items among the migrant workers at Marble Market and Greater Kailash Jammu.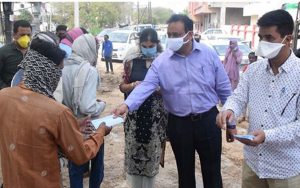 Bhagat visited the dwellings of Inter State Migrant (ISM) workers and assured them that they shall be provided all possible Government support in prevailing situation due to the pandemic. He also made the wokers aware about the importance of keeping personal hygiene in combating Corona virus.
Commissioner Secretary also distributed around 50 ration packets among the workers at Marble Market and Greater Kailash Jammu.
Assistant Labour Commissioner Jammu, Divya Nada and the Tehsildar South, Manjit Singh Katal apprised the Commissioner Secretary of the status of ration supply and distribution by the administration during the lockdown.
The workers were also made aware about the help line services and counseling being offered by the Labour department to them.
Besides, other daily needed items were also provided to the workers by Commissioner Secretary.