Jammu
NGO, Third Eye Anti Crime Team distributes Ration material at Village Sultanpur
NGO, Third Eye Anti Crime Team distributes Ration material at Village Sultanpur
POONCH TODAY NEWS
BISHNAH(JAMMU):  Third Eye Anti Crime Team, formed to help the poor people in the society, has emerged as the messiah for the people of the villages in this difficult time.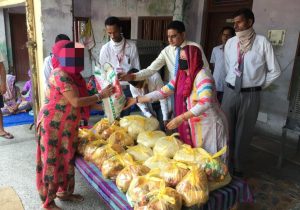 Chairman of the organization Sham Lal Gupta said his organization works on the ground level for the welfare of the people, without any Government Help. The other day, ration items were distributed to the needy people, including handicap, ladies and elderly people, by anti crime team. Chairman of organization Sham Lal Gupta was present with Panch Sheetal Kumari from Village Sultanpur. NGO gave ration items to the People of Village Sultanpur (Bishnah) which included Rice, Atta, Dal Chana, Dal Ma, Mustard Oil, Neutry, Potato, Onion and Salt. The organization also distributed face masks to the people who came to get the ration Volunteers advised Public to stay in the house for the long time being, they said that they should not violate the government law and  do not get out of the house without any reason. Gupta also asked NGO volunteers to help people in difficult time of Covid 19- Crisis. Panch Sheetal Kumari and Villagers appreciated efforts of Sham Lal Gupta and said different work is done time to time by the organisation, which helps the needy. Councillor Sahil Gupta of Municipal Committee Bishnah was also seen supporting social work of the organization.
Members of the organization included Sansar Chand, Rajesh Kumar, Tushar Digra, Neha Mehra, Ravi Kumar and Others.