Jammu
Led from front by DGP J&K Police, young IPS officers performed well in tackling challenging COVID-19 situation
Led from front by DGP J&K Police, young IPS officers performed well in tackling challenging COVID-19 situation
SALIL RAINA
(POONCH TODAY NEWS)
POONCH: After the nationwide lockdown announced by Prime Minister Narendra Modi on 24th of March to tackle COVID-19 situation, J&K Police was entrusted by government of India with a big challenging task  of ensuring lockdown in entire J&K UT,  as J&K Police successfully ensured peace on the ground post abrogation of Article 370.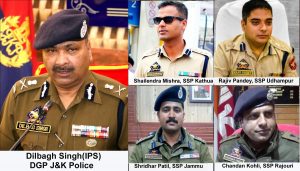 Implementing lockdown on ground and managing never seen before situation was a very tough task for J&K Police, but the country's elite force led from the front by its chief DGP Dilbagh Singh(IPS), chalked out a strategy on the directions of Union and J&K governments to deal with COVID-19 crisis. The entire men and machinery of J&K Police swung into action and succeeded  in implementing lockdown professionally in almost all the districts, and as  result, majority of districts remained safe to some extent, although positive cases are coming every now and then, especially in Jammu division. The top class policy implemented by  young IPS officers namely Shailender Mishra SSP Kathua, Rajiv Pandey SSP Udhampur, Shridhar Patil, SSP Jammu and Chandan kohli SSP Rajouri, despite facing multiple challenging situations, proved fruitful and people saw major relief operation of various kinds from these young IPS officers. DGP of J&K Police, who was closely monitoring the situating right from day one  to tackle COVID-19 crisis, was seen instrumental in addressing militancy related incidents also and despite surrounded by multiple crisis like situation, DGP and his young officers played a remarkable role during COVID-19 crisis. The other day, W.H.O has issued a warning that COVID-19 is likely to stay for few years and people have to change their lifestyle and accordingly, Police has been playing every type of role to educate the people about various safety measures to be adopted, massive relief operations in addition of enforcing lockdown successfully. During the last one year, J&K Police has done a commendable job on two fronts, first on abrogation of Article 370 and now has been doing professional job during COVID -19 crisis.
Shailendrar Mishra, SSP Kathua, while talking exclusively to "POONCH TODAY", said, " When lockdown was announced, there were thousands of  people at Lakhanpur and sending them back was not an option, so  we shifted them to Kathua and Pathankote quarantine centers. Police sealed all areas and started implementing lockdown on ground. Kathua is a border area and is also a highway, so Police performed its job very well and managed 104 quarantine centers,  having most of the people of other states. We provided security to all quarantine centers in addition of managing various entry routes. Many people come to Lakhanpur daily and managing them is a huge task. More than 1600 trucks pass from this area and managing such a huge exercise was very hard, but Kathua Police and civil administration managed all on war footing. Even our higher officers appreciated us and directed other districts to implement Kathua model in tackling COVID-19 crisis. We have different types of  challenges in Kathua, but Police has performed its role in a more professional manner. Few days back, Police also managed workers strike who were demanding wages from Chenab Textile mills. Police is also tackling cross border terrorism and other related issues, but morale of J&K Police is high and we are hopeful that India will beat COVID-19 sooner than later."
Talking exclusively to "POONCH TODAY", SSP Udhampur, Rajiv Pandey, said, "Udhampur was the first district to enforce lockdown and social distancing norms in a selective way much before the nationwide lockdown enforced. Post lockdown relief work was taken on greater pace with the concept of "POLICE VOLUNTEERS".  Udhampur Police aided to district administration in supply of essential commodities to the common populace, along with ration distribution and relief work. It also aided district administration to trace the contacts in the initial phase of reported infection which helped much to break the Chain.  On the orders of Worthy DGP,  IGP and DIG, sustained outreach and information campaign was launched to make awareness about the corona disease along with relief work." SSP Pandey quoted the example of Police retirees who were proactively acting as the eyes and ears of the department informing about the violation of lockdown on real time basis which helped in better management. SSP further, said, "Our Strength was more on ground this way because not only serving ones but retirees also were working as the part of department and did yeomen services as good Samaritans. Management of NHW 44 was the major challenge as essentials and other supplies had to continue yet many unauthorised movement needed to be checked. On the top of this, our Tikri area *Red Zone* was on the both sides of NHW of 3 kms perimeter which was also a challenge to curb the movement along side maintaining supply line. Still with better control measures along with enforcement, we turned Red zone into Orange zone by breaking the Chain of infection. Besides this for the enforcement of lockdown total 49 FIRs registered, 29 vehicles seized and 66 people arrested for violation of DM orders under Disaster management act." SSP Pandey also lauded the efforts of district administration and said that under the leadership of DC Udhampur Dr Piyush Singla and his whole team, particularly the health team which performed outstandingly in these testing times. Civil Administration swung into action much before and still doing outstanding performance on all fronts including sampling, testing, quarantine and relief and rehabilitation, SSP Pandey, said. Since, decision was taken to get back all stranded people and migrant labours to the UT, Udhampur was the first district to receive them all, and this task was taken by district admin in an exemplary fashion with creation of software for real time information to all quarters, he said. Railway and  District Police did it's best to maintain security and crowd management along with dispatch of all incoming passengers in the professional way, he added. SSP Pandey also thanked all the citizens, political parties, Civil societies and NGOs for active and ongoing unconditional support in this fight against COVID-19"
Shridhar Patil, SSP Jammu, while talking exclusively to "POONCH TODAY, said " Jammu is a capital city and always witness huge rush and to tackle lockdown situation and by taking all issues into consideration, we prepared a major strategy on how to manage huge rush in addition of tackling related issues. Police worked through a well coordinated approach and we successfully implemented lockdown on the ground with the active support of public. We are lucky that very few cases came out and that also turned negative. People of Jammu cooperated with us from their heart and I am thankful to all of them. During this lockdown, we started massive relief operation of various kinds, helping the needy people by providing them much needed materials including life saving medicines. J&K Police has been working as frontline warriors to beat Corona. We also provided dry ration and meals to the needy persons with the help of people of Jammu in an unexpected way. Our senior officers gave us timely directions and we implemented those in a professional way. This type of crisis was never seen by anybody, even I never expected such a situation in life, but according to the situation, we created many innovative ideas to deal with this crisis."
When contacted by "POONCH TODAY" on the COVID-19 issue and role played by Rajouri Police, SSP Rajouri, Chandan Kohli, shown cold shoulder and preferred to remain silent due to reasons best known to him, but locals of the Rajouri gave a positive feedback for Rajouri Police in tackling COVID-19 crisis. When contacted by "POONCH TODAY", prominent persons of Rajouri said that Police made appropriate arrangements throughout the district for proper screening of people who used to arrive and depart from Rajouri for their destinations. They said that Rajouri Police did not allow people to come out of their homes during lockdown and as a result, Rajouri remained mostly peaceful, however, few positive cases were reported, but they too turned negative. They said that during initial days of COVID-19 crisis, Rajouri district was tensed, but Police played a good role in managing everything. However, during lockdown, there were also reports that Police was shielding some people who were involved in illegal sale of Liquor, and many such influential people who were involved in this illegal practice, were given benefit for violating law. As Rajouri district remained in news mostly over COVID-19 crisis, but Rajouri police played its role in a more professional way and protected the people in a better way than expected, said prominent citizens. Locals also appreciated the professional approach adopted by Police during COVID-19 crisis and assured their full support for the future. However, the cold response of SSP Rajouri in providing the details of job done by Police, when asked for, has raised eyebrows as Police failed to give its official version.
Other districts of Jammu also witnessed good policing, but majority of those districts were not facing challenging situation and remained in either green or orange zone. In tackling COVID-19 crisis during challenging situation, J&K Police has been playing a good role under the leadership of its DGP Dilbagh Singh, who proved his worth during tough times, first on abrogation of Art 370, now in tackling ongoing COVID-19 issue and as a result, J&K Police deserves appreciation for this.