Jammu
Women entrepreneurs can further boost employment; generate attractive earnings among J&K youth: Dr Sehrish
Women entrepreneurs can further boost employment; generate attractive earnings among J&K youth: Dr Sehrish
POONCH TODAY NEWS
SRINAGAR: Director Information and Public Relations, Dr Syed Sehrish Asgar, the other day, addressed a webinar on 'Entrepreneurship and Self Employment Opportunities for Women in J&K' organized by FICCI, J&K State Council. Dr Sehrish, who was a special guest on the occasion, talked about the opportunities available for qualified young women of Jammu and Kashmir in terms of entrepreneurship and self employment.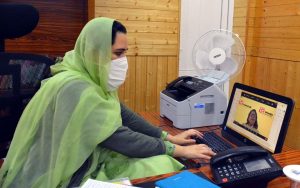 She highlighted that entrepreneurship is seen as a channel for the highly educated young population to explore their potential and subsequently channelize their business acumen. Dr Sehrish said that entrepreneurship interventions in particular to women entrepreneurs can further boost employment and generate attractive earnings among youth especially in regions like J&K which so far has remained untapped in terms of human resource potential. She discussed about the managerial and administrative abilities of women. How they can overcome the challenges of finances, legal, societal biases by focusing on their innate potential. Today women need to create their own form of leadership and for that self confidence is the key.
Later, a panel discussion was also held on topics viz challenges and opportunities faced by women entrepreneurs in J&K; taking women entrepreneurship to the next level and the future of women entrepreneurship.