Jammu
Why Div Com Jammu, Poonch administration took the issue of "Red Zone" lightly?
Why Div Com Jammu, Poonch administration took the issue of "Red Zone" lightly?
POONCH TODAY NEWS
POONCH: Continuous rains  in Poonch are again giving a warning of flood and if similar flood of 2014 strikes again,  then who would be responsible if we witness loss of lives and property again.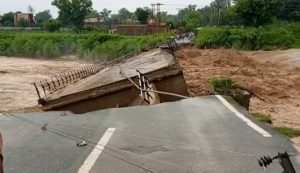 The matter was brought into the notice of Div Com Jammu and district administration many times, but no action was taken against constructions in Red Zone. This shows that those sitting on important chairs have no vision at all and due to their weak attitude, there is a possibility of danger to human lives and loss of property if flood strikes with similar intensity of 2014. Ongoing rains have already proved heavy at many areas of Jammu as a concrete bridge was washed away in an area of Jammu city. Similar is the condition of different areas of Poonch and Rajouri and if connectivity between Poonch and outside areas breaks, then what would happen, one can easily imagine. The other day, "POONCH TODAY" even published that administration wanted to construct new bus stand and a shopping complex in the same red zone and such things show that Poonch district is running on the mercy of god where nothing has been going on with planning and vision. The cold shoulder attitude of Div Com Jammu and District administration in dealing with this sensitive issue of public importance shows that the people of Poonch are bound to suffer. Even police failed to lodge FIR against those who were involved in such acts in red zone despite given in written by few departments. Saving human lives should be of paramount importance rather than saving illegal structures.