Jammu
Why BJP President Ravinder Raina is silent on Rs 8 lakh Pahari income slab?
Why BJP President Ravinder Raina is silent on Rs 8 lakh Pahari income slab?
POONCH TODAY NEWS
JAMMU: There is a huge resentment going on in Pahari community over the questionable silence being adopted by BJP leaders over Rs 8 lakh income slab.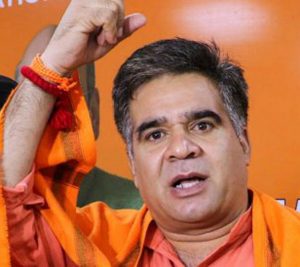 Even, BJP President of J&K UT, Ravinder Raina, who is himself a Pahari leader, has not spoken on the issue yet and if sources within the party are to be believed, then this silence may prove fatal for the party in future, because  Paharis have a huge vote bank and if BJP failed to remove this Rs 8 lakh income slab, then BJP is surely digging its own graveyard in Pahari belts.  After years of struggle, Pahari people were granted the Pahari status and after the announcement, every BJP leader, on social media , celebrated with beating of drums and also projected BJP as the voice of Paharis, but, this thing was short lived as government introduced Rs 8 lakh income slab and the dream of Pahari people was shattered like anything and for playing with the sentiments of Pahari speaking people, the credit goes to vision less leaders of BJP in J&K UT. Few days back, during visit of BJP MP to Poonch, BJP leaders also brought this matter into the notice of sitting MP and also indirectly warned that if BJP failed to address the issue, then it would be a disaster for the party in future. Lower rung leaders of BJP also said that with this income slab of Rs   8 lakh, only 10% Paharis will get benefit and remaining 90% of Paharis will be left out. "POONCH TODAY" contacted an ex-BJP legislator from Pir Panjal over the issue, but the said legislator  preferred to remain silent and it shows that BJP has taken this matter lightly. The continuous silence of BJP President Ravinder Raina, on the issue is also questionable as time and again, Ravinder Raina declared that BJP represents the aspiration of people from every section of the society. Pahari people always stood strongly with the nation during hours of crisis,  but they have been feeling stabbed at back from the hands of BJP leadership. It is high time, BJP leadership must ponder over the issue and approach government for removal of Rs 8 lakh income slab, else the saffron party is bound to suffer everywhere in Pir Panjal and other Pahari areas.