Jammu
Frustrated  GUPKAR alliance  is locking the barn door after the horse was stolen?
Frustrated  GUPKAR alliance  is locking the barn door after the horse was stolen?
SALIL RAINA
(POONCH TODAY NEWS)
POONCH: After the abrogation of Art 370 and 35-A, valley based political parties have been in a state of stun as they don't know how to proceed further.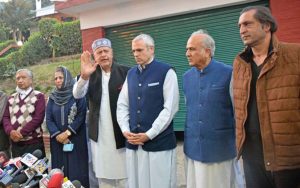 Both the leading parties of National Conference and PDP with the help of other valley based parties, managed to form an alliance called PAGD with a cynical agenda of hoodwinking people of  valley on the supplication of fighting for getting 370 back.  It seems that all the leaders who formed this Gupkar alliance have no permanent hallucination, because they were the same leaders who said that they will not participate in any election till union government gives 370 back. This statement was given by these valley based leaders time and again to gain the sympathy of valley people and they were having an upper hand earlier, but, the sudden decision of Gupkar alliance to participate in DDC elections has surprised one and all as people in valley have started doubting NC and PDP leadership as majority of people opined that only chair matters for these leaders and nothing else. Even after the announcement of  Gupkar alliance participating in DDC elections, cracks have started to develop within the alliance on seat sharing. Even, on the issue of nomads, difference between NC and PDP was very much visible. On the other hand, difference between Gupkar alliance has started to increase deeply over the arrest of PDP youth wing chief Waheed-Ur-Rehman,  who was arrested by NIA, few days back. Even, on the house arrest of Mehbooba Mufti few days back, there was not a word from other alliance partners and its shows that the visionless alliance has become a alienated house. Though, arrest of PDP youth wing leader is an issue of national security, that's why NC and other parties decided to keep mum and this is creating a wedge between PDP and other parties in alliance. Reportedly, on ground, in many blocks, few NC, Congress and PDP leaders are reportedly favouring proxy candidates and it shows that the mission of Centre government to divide valley based political parties has succeeded and a new breed of emerging leadership has given an opportunity by Centre to  play an active role in the process of development. Center has taken full control of J&K and those political parties, who had taken everything for granted by regularly blackmailing New Delhi, are finding themselves nowhere and just to befool the public, all the members of Gupkar alliance have  started locking the barn door after the horse was stolen by the Centre. Frustration among the PDP, NC and Congress cadre is very much visible as majority of ex-ministers and legislators are fighting the DDC elections, because majority of leaders are thinking that elections to assembly will take place after long time. Even, former BJP ministers and legislators are fighting the DDC elections. Whatever may be the outcome of DDC elections, but one thing is clear that Centre government has succeeded in its mission of creating a new leadership by demolishing the political prospects of traditional valley based political big wigs, who always considered themselves as "Sultans" of J&K. In the last 70 years, no government at the centre collected will to teach these leaders of J&K a strong lesson for always standing against the interest of the nation. First time, the nation has been witnessing these valley based leadership dancing to the tunes of a strong Centre leadership. The message is very clear from the Centre and that is "Nation first" and it would be better  for all valley based political leaders  to start realizing this truth sooner than later, because the days of their well scripted "Dramas" dictated by outside forces, to hoodwink successive Centre governments are over. National interest matters the most and nothing else.