Jammu
Professional display of bravery by Poonch Police in  neutralising 2 militants amid high snowfall conditions
Professional display of bravery by Poonch Police in  neutralising 2 militants amid high snowfall conditions
POONCH TODAY NEWS
POONCH: In a rare professional display of bravery by Poonch police and Army, the other day, two militants were neutralised in a five hour long operation amid high snowfall conditions along Mughal road area.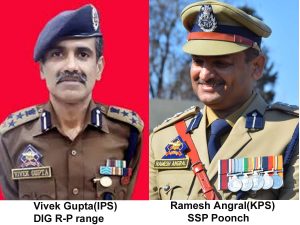 This is the first operation carried out in Surankote area after a long time. Police personal led from front by SSP Poonch Ramesh Angral and Army personal were tracking the movements of militants from the last few days as there were reports of presence of militants after crossing over from LOC, few days back. After three days of tracking the movement, police and army personals managed to establish contact with militants and gave them an opportunity to surrender. After waiting for few hours, militants fired upon security personals and this led to police and army responded to militants and in the gun battle, which lasted for few hours, two militants were killed and one associate of militants was captured by police alive. This operation was carried out  successfully despite facing inclement weather conditions by police and army in Poshana area of Mughal road in Poonch district.
IGP, Jammu zone Mukesh Singh and DIG Rajouri-Poonch Vivek Gupta appreciated the  efforts of Poonch polcie and security personals and said that both the slain militants were identified as Sajid and Bilal from Pakistan. Lt Col Keshav Sharma of 16 RR  said that security personals were chasing them for three days before establishing contact with them. He said that police and army have done a big job in neutralising two militants who crossed over from LOC few days ago.
SSP Poonch, Ramesh Angral, while talking to "POONCH TODAY" said, "Despite facing tough weather conditions, police and army neutralised the militants after giving them an opportunity to surrender, but when they failed to respond to our repeated calls and started firing, we responded accordingly and in between, both of them were neutralised, while the third, who was associate of two militants is in our custody. The arrested associate came from Shopian to take these terrorists across Pir Panjal, but could not do it due to closure of road. He was staunch OGW in record of Shopian."
DIG Vivek Gupta, also said that although,  there were reports of  repeated attempts to revive militancy in the area, but due to the alertness of police and security forces, all attempt from militants side failed and forces are always active to foil their nefarious designs. It is pertinent to mention here that Surankote tehsil witnessed militancy for many years, but Poonch police and army played a big role in the establishment of peace by wiping out militancy from the area. Now, this was again a  possible attempt for the revival of militancy in the area, but, Poonch police and army played a significant role and shattered the designs of enemies by neutralising two militants. Entire operations was carried out in inclement weather conditions with about four to five feet of snow accumulated in the area and it shows that how police and army have been doing a splendid task by protecting the nation, even during harsh weather conditions.