Jammu
Big success for J&K Police as Pak attempt to repeat Pulwama type terror attack in Jammu foiled; DGP, IGP, DIG appreciate SOG Jammu
Big success for J&K Police as Pak attempt to repeat Pulwama type terror attack in Jammu foiled; DGP, IGP, DIG appreciate SOG Jammu
SALIL RAINA
(POONCH TODAY NEWS)
JAMMU: On the second anniversary of Pulwama attack, Pak was desperate to carry out a similar Pulwama type terror attack in Jammu, but alert and professionally sound Special Operation Group(SOG) Jammu has foiled its attempt with the help of intelligence agencies, when it arrested a militant of terror outfit Al-Badr, the other day, with IED weighing around 6.5 kg.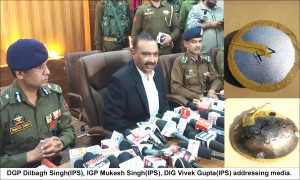 The arrested militant, who was roaming in a suspicious circumstances was captured by SOG Jammu and on detail investigation, his identify and plan was revealed and with his arrest, Pak plan to script Pulwama-2 was foiled, thereby averted a very big tragedy in Jammu city. Pakistan, which is already in grey list of FATF and was directed by international watchdog to curb terror financing, still playing all moves to carry our terrorists attacks in India and is likely to be taken to task by FATF when the deadline of Feb 2021 comes to an end. It is pertinent to mention here that  Jammu was shattered with consecutive serial blasts on Republic day function of 1995, at MAM stadium that claimed eight lives and it seems that same modus operandi was planned to shake Jammu once again. The then Governor J&K, Lt General K.V. Krishna Rao, who was addressing a huge gathering of about 40,000 people had a narrow escape.  This time, four to five locations( religious places also) were chosen to flare communal tensions in Jammu province. Due to constant pressure on valley based militants and several killings coupled with shortage of Arms and ammunition in the valley, Pakistan is desperate to foment trouble in J&K UT. This recovery of IED, small IEDs and pistols  shows that supply channels are being used with the help of Drones as previous recoveries shown the same. It is important to mention here that J&K police have been playing a vital role in neutralizing militants after the abrogation of Article 370 and 35-A and have achieved  a major success in the establishment of peace, especially in valley. Even, police played a big role in establishing peace in sensitive areas of Jammu province like Rajouri, Poonch, Doda and Kishtwar districts.  After August 05, 2019, entire men and machinery of J&K police played a gigantic role by breaking the backbone of terrorism in J&K.  On recent development from security point of view, alert police personals  of J&K police  have achieved success time and again during the last few days by arresting two militants(Hidayatullah from Kunjwani area on February 6 and another militant  namely Zahoor Rather of The resistance front(TRF) from Bari Brahmna area of Samba) and also by  recovering few pistols and small IEDs from Samba and this shows that J&K police officials were on high alert to foil every possible attempt from Pakistan to target vital installation in and around Jammu.  On this big recovery of IED, IGP Jammu, Mukesh Singh said that police were on high alert following inputs from different agencies about repeat of Pulwama type attack on its second anniversary and acting professionally, police officials were having a hawk's eye on every naka and were watching every type of suspicious movements. IGP said that, police arrested one Suhail Bashir Khan S/o Bashir Ahmed Shah R/o Newa, Pulwama, who was moving in a suspicious condition and on his investigation, police came to know that he was a student of Nursing college in Chandigarh and was directed to reach Jammu with an aim of carrying out an IED attack on 14th of February. When police arrested him and found that he was carrying a bag containing IED which was not activated. IGP said, "He was directed by Al-Badr to place an IED in any of the four locations of Bus stand, Lakhdatta bazaar, Raghunath mandir and Railway station. After placing IED, he was directed to reach Kashmir where Athar Shakeel Khan, an OGW  was deputed by Al-Badr to receive him for formally joining the outfit." added "One more person was aware of this plan and he was fellow student of Suhail and he was identified as Qazi Wasim and was picked up from Chandigarh." Another associate of Suhail and Qazi Wasim, namely Abid Nabi was arrested from Kashmir, IGP said.  IGP also lauded Samba police for  recovering 6 Pistols and 15 small IEDs few days back and said that police officers are working to identify all backward and forward links related to this case.
DGP J&K, Dilbagh Singh also said that Pakistan has been trying hard to perpetrate terrorism by creating new local faces of LET and JEM. DGP said that LET has created The Resistance Front(TRF) and JEM has created Laksher-E-Mustafa. DGP said, "We were tracking the movement of top leadership of TRF and LEM and in the connection Anantnag police was in touch with Jammu police and with professional approach adopted by police, both the outfits have been exposed." He said that Haidayat ullah was leading Lashkar-E-Mstafa and remained OGW of JEM before working as active militant with Jaish. He said that after creating an outfit in South Kashmir, he was planning to announce the presence of outfit in Jammu region. DGP said that Pak was sending weapons through different options and he was directed to send those weapons to different locations for militant activities. Even he with the help of an associate from Punjab were brining weapons from Bihar for their onwards delivery to militants. DGP said that he was also involved in conducting a Reece of NSA` Ajit doval's office and was sending videos to his handlers in Pak. DGP also said Zahoor Rather was running TRF and was an old militant with HEM. In 2006, he surrendered and in 2019, he activated himself again and created a strong network in Kashmir, DGP said. He further said that he was also involved in killing of 3 BJP leaders and one policeman in Kokernag. DGP Dilbagh Singh, IGP Mukesh Singh and DIG Jammu Vivek Gupta have congratulated the entire team of police for its alertness and successful operations over the  past few days  and said that Pak plan to repeat Pulwama type attack was foiled and with timely and professional action from SOG Jammu,  a possible big tragedy was averted. Although, the efforts  of J&K police in capturing militants and recovering IED and related items are  praiseworthy, but we shouldn't forget that the policy based intervention is required to arrest this trend of supply of weapons by drones, otherwise, we will see the new era of militancy in J&K and this is biggest challenge as UT of J&K shares border with POJK and there is no particular gadgetry available to track down the Drones. There is an urgent need to equip security forces with latest gadgets, because, it will help in tracking down every possible move from Pakistan sponsored terrorism  in fomenting trouble. This recovery also shows that whatsoever means enemy may try, our intelligence grid is so strong that Indian security forces can break every module of Pakistan..