Jammu
Poonch Smasher lifts first Poonch Premier League cricket tournament
Poonch Smasher lifts first Poonch Premier League cricket tournament
POONCH TODAY NEWS
POONCH: Poonch Smashers won the first edition of Poonch Premier League(PPL) by defeating Poonch Thunders by 1 run in a keenly contested match.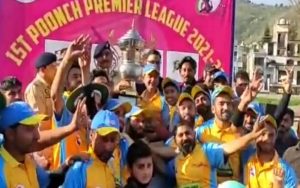 Batting first, Poonch Smashers scored 154 runs in 20 over for the loss of seven wickets.   Chasing the target, Poonch thunders fell short by 1 run and lost 9 wickets. The final match was officiated by Rajinder Singh Toofan and Ishtiaq Hussain.
DDC member  Sohail Malik was chief guest while ASP Poonch Khalid Amin was special  guest on the occasion while Dy.SP HQRS was guest of honour. Prominent dignitaries from all walks of life attended the prize distribution ceremony in which prizes were given to participants, media persons and VIPs. Owner of Poonch Smashers Kuljeet Thakur  congratulated his team and assured full support in future tournaments.
Speaking on the occasion, Sohail Malik and ASP Poonch Khalid Amin applauded the efforts of organisers for organising a brilliant cricket tournament. ASP assured that Police will support all types of sports activities in district Poonch for utilising the energy of youth in positive direction. He also said that Poonch is blessed with huge talent in sports and J&K police will also organise sports activities to encourage local talent. Sohail Malik applauded the role of EHSAAS foundation and said that youth of Poonch need to be engaged in positive activities. Manger of sports stadium Nirdosh Kumar was also present on the occasion besides prominent citizens of Poonch.
This first Edition of Poonch Premier League (PPL) T-20 Cricket Tournament, organised by EHSAAS Foundation, under the supervision of Pervaiz Malik Afridi.  About eight teams participated in the championship which includes Poonch Royals, Poonch Knight Riders, Poonch Warriors, Poonch Thunders, Poonch Smashers, Poonch Tigers, Poonch Super Kings and Poonch Panthers.