Jammu
Dir RDD Jammu reviews achievements under Central schemes in districts
Dir RDD Jammu reviews achievements under Central schemes in districts
POONCH TODAY NEWS
JAMMU, APRIL 10: Director Rural Development Jammu Sudershan Kumar today reviewed progress achieved under various Centrally Sponsored Schemes and other administrative issues including disposal of grievances here at a Video Conference meeting.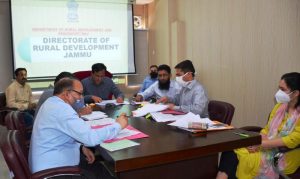 A detailed discussion was held with District Officers on MGNREGA indicators like Timely Payment Status, Work Completion Status, Aadhaar Based Payment System, Regeneration of rejected FTOs, GIS Plan, Status of Annual Action Plan 2021-22 & Status of SoS Plan.Assistant Commissioners Development of Jammu Division districts were asked to take steps to achieve 100% timely payment and ABPS.
Under 14th Finance Commission, the Chair reviewed the progress regarding the total number of Plans-Activities uploaded and expenditure made on e-Gram Swaraj Portal.The District Officers were asked to complete the Panchayat Ghars under RGSA at the earliest.
Regarding PMAY, the Officers were asked to achieve the target of 50,000 houses for Jammu Division by end of 30th April, 2021.
Accordingly, Officers were impressed upon to bridge the gap between no. of sanction and completed cases.
The Districts with low progress were asked to gear up with a definite strategy to achieve the set targets well in time. It was impressed upon all the subordinate officers to dispose of the pending grievances and complaints lodged by the public at various forums.
Superintending Engineer REW, Jammu, Joint Director (Adm), Assistant Commissioner(s) Development of Jammu Division, Executive Engineers, REW & District Panchayat Officers of all the districts of Jammu Division besides Divisional Publicity Officer, Jammu also participated in the meeting.