Jammu
District administration Samba initiates doorstep delivery of prosthetic aids
District administration Samba initiates doorstep delivery of prosthetic aids
POONCH TODAY NEWS
SAMBA, APRIL 10: District Administration, Samba, in its endeavour to maximize the deliverance of public service at the doorstep of the beneficiaries, today provided a wheel chair to specially –abled girl at Rajpura Block.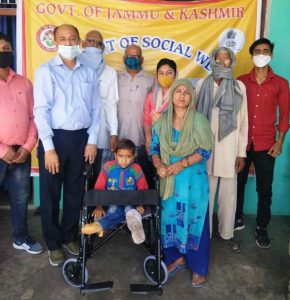 Deputy Commissioner, Anuradha Gupta, had recently issued directions to the social welfare department to felicitate specially- abled persons, who cannot come to the district office for getting prosthetic aids, by providing them the same at their doorsteps.The DC said that the move aims at maximizing governance and assimilate maximum possible persons under the ambit of social security schemes and to attain zero pendency in the district.
"Efforts are afoot to provide opportunities and proper facilities to specially-abled persons and children to empower them so that they can realize their dreams and aspirations", added DC Samba. District Social Welfare Officer, Deep Kumar said that in compliance to the directions of the DC, a wheel chair was today provided to a beneficiary named Ridhima Singh aged 13 of Mawa, Rajpura at her residence as she was unable to visit the office, he said same efforts will be continued in future also to facilitate the specially abled persons in the district.