Jammu
Huge resentment against the government over the attachment of DFO Mohan Choudhary(IFS); Adv Raina termed the decision as most unfortunate
Huge resentment against the government over the attachment of DFO Mohan Choudhary(IFS); Adv Raina termed the decision as most unfortunate
POONCH TODAY NEWS
POONCH: A few days back, the government transferred many IFS officers and in that list, former DFO Poonch Mohan Choudhary(IFS) was attached and this irked Poonchites who termed the decision as shocking.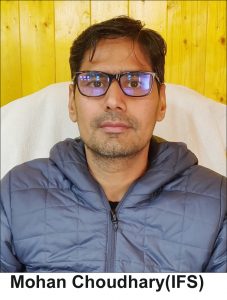 Prominent citizens of Poonch town while talking to "POONCH TODAY" said that the outgoing DFO did his best in the district as he took on the Forest mafia single-handedly. Many political leaders tried to pressurize him to play foul, but he never came under any pressure and played a remarkable role in getting forest lands back from various illegal encroachers. During his stay as DFO, Mohan Choudhary played a big role in canceling the record of 25000 kanals of forest land which was transferred illegally by the revenue mafia over the years. He also demarcated nearly 76,000 kanals of forest along with the installation of BPs. With his huge efforts, thousands of Kanals of land were retrieved. He also got declared 3000 kanals of state land with tree cover as forest land. In addition to this, record reconciliation of 593 Kanals of the land took place. Despite contempt petition, he safeguarded the interest of the department and protected forest wealth for future generations, but in a most unfortunate event, the government attached him on wrong reporting of few top officers who wanted him to toe their line out of the way in FRA issue. Mohan was treated in bad terms when he was a deserving officer for a highest reward from the government for his dedication, honestly, integrity, and professionalism. His hard earned efforts in protecting the forest wealth for the future generations have been appreciated by people from every section of the society. He stood by his integrity strongly and never worked against the Forest Laws even after facing massive pressures from various angels.
Advocate Sanjay Raina, Chairman People Forum termed the event as unfortunate and said that the government treated its most efficient officer badly just to satisfy the arrogance of few big minds who wanted him to toe their lines(Out of the law) in implementing the Forest Rights Act, which he didn't. Advocate Raina said, "It's very shameful that a most capable officer who has won million hearts in Poonch district was treated badly by the government. A thorough investigation must be carried out by the government against those officers who are playing their role in a negative way in FRA." A large number of people also said that the real objective of the FRA is being ignored and this would be another blunder in making.  Highly placed sources in top echelons of the government told "POONCH TODAY" that all-out efforts are going on by few top officers to give benefit to the claimant, who is not a subject of the FRA as never in history; claimants have ever used forest lands for permanent habitations or for self-cultivation. Various social media users have praised a senior IAS officer for the detachment of Mohan Choudhary and this shows that the top brains of the J&K UT government played wrong role and were divided on the issue of FRA. Who was right and who was wrong? The government needs to detect this to save the forest from legalized illegal encroachment and moreover, those officers who are an asset of government must be rewarded and protected by all means against hatched conspiracies of a few top officers who are behaving like big arrogant bosses thereby giving huge preference to their hollow ego and not to the merit of act, feel locals.