Jammu
Grant ST status to Paharis or be ready to face our wrath: Pahari leaders tell BJP
Grant ST status to Paharis or be ready to face our wrath: Pahari leaders tell BJP
POONCH TODAY NEWS
POONCH/RAJOURI: As assembly elections are approaching in J&K UT soon and many political parties have started their preparations, the members of the Pahari community have out rightly told BJP leaders that if BJP led government failed to give them complete ST status, then Pahari will take BJP to task in coming assembly elections.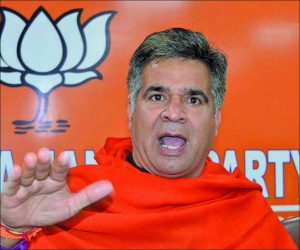 They said that despite true nationalists in character, they were hoodwinked by successive regimes and few bureaucrats over the years as their most genuine demand was treated on bad terms. They said that Pahari community people live in Poonch, Rajouri, Kupwara, and Baramulla and if they fail to get their much deserved ST status, then they will be left with no option in completely boycotting the BJP party in coming elections. Nearly 64 percent of Paharis live in Poonch and Rajouri districts while the other 34% live in Kashmir province and if BJP lead government give ST status to Paharis, then all Pahari speaking people will vote for BJP, they said.  After a long time, Paharis got a 4% reservation in public sector employment and for education purposes in various colleges and institutions of higher learning.
A Pahari leader, wishing anonymity, said, "We have organized many meetings in Poonch and Rajouri districts during recent times in which all Pahari leaders have unanimously said that they will boycott BJP if the saffron party failed to give ST status to Pahari speaking people and if we get ST status, which is our most genuine and long-pending demand, then entire Pahari community will support BJP in elections." Recently, BJP president Ravinder Raina also gave a statement in favour of Pahari community by saying that Paharis are real nationalist in character and their demand is genuine. It is pertinent to mention here that Paharis were backstabbed for years by successive regimes, but after a long time, the BJP government provided 4% reservation to Paharis in employment and educational institution. Now, when the elections are around the corner, Paharis have aggressively launched their do-or-die campaign of getting ST status and if the saffron party fulfills their wishes, then BJP will emerge as the strongest force in coming elections, feel political observers.