Jammu
Has the government neglected the Poonch-Rajouri region from a security point of view?
Has the government neglected the Poonch-Rajouri region from a security point of view?
POONCH TODAY NEWS
POONCH/RAJOURI: Few militant attacks in twin border districts of Rajouri and Poonch recently and closure of main highway between Bhimber Gali and Jaranwali Gali for twenty days in addition to placing weak heads shows that government seems to have neglected the most sensitive Poonch-Rajouri belt.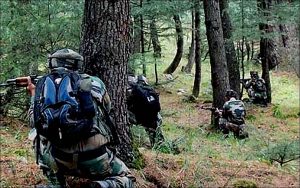 For the last two decades, meritorious Police officers along with few brilliant army officers played their bigger role in bringing back normalcy in these two districts, but by not placing strong officers in these two sensitive border districts going by the past history, the government has spoiled the hard earned peace and prosperity of the region earned by strong, bold and professional police and army officers over the years. On one hand, large number of security personals sacrificed their lives and few police and army officers played their bigger role in the elimination of militancy from twin border districts and brought peace, but on the other hand, taking everything lightly on the ground proving to be a bigger threat for security agencies as few terrorist incidents have shown that militants want to revive terrorism in this belt. After the eruption of militancy in J&K, Poonch district never witnessed closure of the main highway. Even during two wars with Pakistan, the same highway did not witness closure. This was the first time that security forces closed the highway for twenty long days and this has brought the morale of nationalist forces to an all time low. Even, no concrete efforts were made from civil and police administration to initiate confidence generation steps among nationalist people. Communication channels between police, civil administration and people were almost inactive for long and no concrete information was placed in public domain about the BG encounter due to which, the main highway remained closed for twenty days. A prominent citizen of Poonch, Advocate Sanjay Raina, said, "Security agencies need to occupy important heights in addition to launching operations in different pockets of the district. Forces should be given all powers to identify OGWs of various anti national organizations." Added "Poonch and Rajouri are sensitive districts and if this region falls, it means whole Kashmir falls. Strong security measures are required in Poonch district by placing the right men for the right job as we should not trust anti national forces by any means." Complete silence of government on the terrorism issue in this Poonch-Rajouri region is very unfortunate and this has brought the morale of minority communities to low. Not placing strong heads in twin border districts of Poonch and Rajouri has increased the confidence of anti national forces which are ever ready to disturb these districts. There is a disruption in peace now, which was earned in Poonch and Rajouri with the hard work of the Police and Army over the years. Militant attacks in Rajouri and Poonch districts have increased during the last few months. Rajouri police have not yet solved the militant attack on the house of a BJP leader in Rajouri city. If the government has taken Poonch and Rajouri district lightly from a security point of view, then it would prove as a  big security lapse for the future in the entire Jammu division in particular and Kashmir division in general because Poonch connects with the valley through the strategic disaster Mughal road. An urgent and strong action is needed from the government to protect the region from all angles by placing strong heads, strengthening the intelligence network in addition to winning the confidence of minorities, else, in case of any unfortunate incident,  it would prove a futile exercise of locking the barn door after the horse was stolen. Meanwhile, the authorities have opened the main road for vehicular traffic on Sunday after twenty days, but have not brought any exact information in public domain about the encounter up to the time of filing this report.