Jammu
DC Rajouri reviews implementation of Employment Generation Schemes
DC Rajouri reviews implementation of Employment Generation Schemes
POONCH TODAY NEWS
RAJOURI:  Deputy Commissioner Rajouri, Vikas Kundal  chaired a meeting of the concerned officers to review the progress achieved under self-employment generation schemes, here in his office chamber.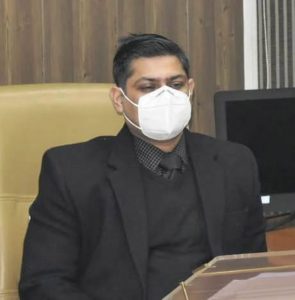 Officers who attended the meeting included ACD, Sushil Khajuria; CPO, Mohammad Khurshid; GM DIC, Manzoor Hussain; LDM, Jyoti Prakash Sharma; AD Employment, Rekha Rani; Employment Officer, Aslam Beig and other concerned officers. Discussing the functioning of the Self Help Groups, the concerned officer from NRLM informed that 2451 active self-help groups in the district are involved in various income-generating activities including karyana, beauty parlour etc. Moreover, a proper audit of all the income units is also carried out regularly by the cluster level federation.
Taking stock of the funds provided to the Self Help Groups, the meeting was informed that Revolving Fund( RF) amounting to Rs 15000 has been provided to 1719 SHGs while Community Investment fund amounting to Rs 40000 has been provided to 1372 SHGs. It was also informed that 1156 SHGs have been linked with the Banks and availed an amount of Rs 26 crores as a loan.
DDC asked the concerned officer from NRLM to take effective measures to raise the income of the SHGs. He also stressed educating the public about the functioning of the SHGs and motivating them to constitute more self-help groups as they can play a vital role in eradicating poverty and improving quality of life.
While reviewing the progress concerning the registration of the unemployed youth of the district with the Employment Department, the AD employment informed that 7700 youth have been registered so far. He directed the concerned officer to ensure that all the unemployed youth of the district are registered at the earliest. Giving details of the progress made under PMEGP, the meeting was apprised that as many as 215 cases were sanctioned and all of them have been disbursed with active cooperation from the banks. Similarly, DDC also reviewed the progress on ST/ SC and OBC, ultra-high-density apple plantation and other self-employment generation schemes. Addressing the officers in the meeting, the DDC asked the Officers of line Departments to maintain close coordination with the Banks to ensure timely disbursement of loans to the beneficiaries.
He also asked for educating the people especially youth about various self-employment generation schemes being implemented by different departments in the district and motivating and hand holding them to avail the necessary benefits of the same. The DDC also instructed the concerned to make dedicated efforts to generate more employment avenues in the district to help the unemployed youth by providing them necessary platforms so that they can earn livelihood with dignity and honour.