Jammu
Floriculture Deptt to reorient its priorities-promote commercial floriculture to enhance farmers' income: CS
Floriculture Deptt to reorient its priorities-promote commercial floriculture to enhance farmers' income: CS
POONCH TODAY NEWS
JAMMU: The Chief Secretary, Dr. Arun Kumar Mehta chaired a meeting to review the functioning of the Floriculture Department.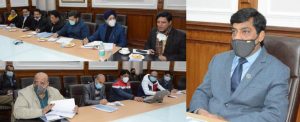 Commissioner Secretary, Floriculture, Gardens and Parks Department and other senior officers of the Department were present in the meeting.
Underscoring the need to reorient the priorities of the Floriculture Department, the Chief Secretary asked the Department to promote commercial floriculture in addition to its developmental and maintenance activities for the upkeep of various parks and gardens in the Union territory. It was advised to introduce suitable promotional schemes for the sector on the lines of schemes and programmes of the Agriculture and Horticulture departments while giving due consideration to the avenues of field-level convergence among the departments to enhance the farmers' income. "The Department must strive to make floriculture in Jammu and Kashmir the next big income source for farmers", Dr. Mehta said.
The Department was further asked to prepare a proposal in collaboration with Agriculture Department and SKUAST to attract prospective growers for adopting Floriculture as an economic activity; and submit the same within 15 days.
Reviewing the ongoing developmental activities at Bagh-e-Bahu Garden, the Chief Secretary directed conversion of the guest house building the Garden in to a museum to boost the footfall of visitors. The Chief Secretary further asked the Department to explore the possibilities of establishing Tulip Gardens at Sonamarg and Gulmarg to prolong the tourist season in the Union territory, besides identifying other flower crops suitable to the climatic conditions of Jammu and Kashmir. The Chief Secretary impressed upon the Department to develop thematic gardens at each tourist place.
The Department was asked to undertake a study of the asset based and corresponding proportion in the economic activity of J&K.