Jammu
DC Rajouri inspects patient care & COVID mitigation measures at SDH Sunderbani
DC Rajouri inspects patient care & COVID mitigation measures at SDH Sunderbani
POONCH TODAY NEWS
RAJOURI: To take stock of the health care facilities available for the patients and review COVID mitigation measures, Deputy Commissioner Rajouri, Vikas Kundal  visited Sub-district Hospital Sunderbani.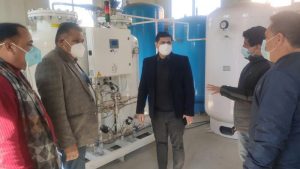 Among the others, DDC Member Subderbani, Rajinder Sharma; ADC Subderbani, Vinod Kumar Behnal and BMO Sunderbani, Dr Manzoor Hussain accompanied the Deputy Commissioner during his visit.  During his visit, the DC inspected various sections of the hospital including the emergency ward, laboratory and x-ray unit, OPD rooms etc and took stock of the medical supplies and facilities being provided to the patients.
While interacting with the hospital staff, the DC asked them to work with dedication and ensure that the best and quality healthcare facilities are provided to the patients. He also inspected the 500 LPM Oxygen Plant and reviewed its functioning. The staff informed that the plant is fully functional and there is no dearth of medical oxygen supply in the hospital. He also asked to scale up the pace of testing to contain the spread of infection by early detection of the positive patients. The DC also asked the concerned officers to make sure that all the COVID-19 protocols are strictly adhered to by the staff and patients to avoid the risk of infection. He also appealed to the public not to lower guard and follow Covid Appropriate Behaviour religiously to safeguard their own others life. He made it clear that the District Administration will not allow any violation of Covid protocol.