Jammu
People from all sections of the society join Yashpaul Sharma's funeral
People from all sections of the society join Yashpaul Sharma's funeral
POONCH TODAY NEWS
POONCH:  Ex MLC Yashpaul Sharma, who rose in politics from 1978 agitation today breathed his last here at Poonch. Known as "Chacha Yashpaul", he was loved and respected by all.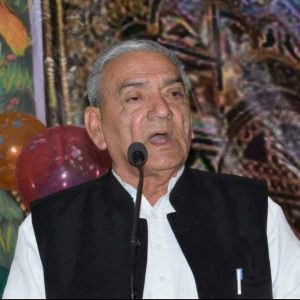 Known for his fearless approach, honesty and public service, Yashpaul won millions of hearts during his long social and political career. He Served as president of Poonch municipality in 1980 and as an MLC during the later part of his life. His sudden demise has sent shock waves among the people of Poonch. People from all sections of the society attended his last rites.  A large funeral procession of Late Yashpaul Sharma, commenced from his home at Purani Poonch and then  reached cremation Ground. A large number of people from all walks of life including officials of administration, political leaders and people cutting across political, religious and social lines paid their last tributes to him.
Former MLA Shah Mohd Tantray, ex-MLC Pardeep Sharma, ADC Poonch Basharat Hussain, SSP Poonch Rohit Basotra, Dy.SP DAR, Dy.SP OPS, Advocate Mohd Zaman, Adv Sanjay Raina, Satish Sasan Pardhan Shri S.D Sabha, S. Rajinder Singh ex-president Municipality  and others attended the funeral of Late Yashpaul Sharma. They all described the death of Yashpaul as a big loss to the society and the nation. They also expressed their sympathies with the family of Yashpaul Sharma.