Jammu
Sunita Arora  "15th August 2017 Lal Chowk National Flag Unfurling Fame" joins IkkJutt Jammu
Sunita Arora  "15th August 2017 Lal Chowk National Flag Unfurling Fame" joins IkkJutt Jammu
POONCH TODAY NEWS
JAMMU: Former 1988 President Sewa Dal, known social political activist, 15th August 2017 National Fame and staunch Nationalist Mrs. Sunita Arora has formally joined fast emerging political option IkkJutt Jammu Party in presence of Ankur Sharma, President IkkJutt Jammu in a function organised at Party headquarters ar Gandhi Nagar, Jammu.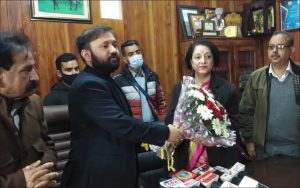 Mrs Arora also headed New Young Blood Organization from year 2006 to 2009 and later joined a National News Channel, Focus Tv as a Bureau Chief (J&K). After that she joined News Express in the year 2011 till 2016.
On 15th August 2017 Mr. Sunita Arora single headedly hoisted National flag at Lal Chowk, Srinagar at a very tense time (Burhan Wani anti national movement) and earned National Fame.
Mrs. Arora also launched Anti-Drug Campaign and has served people along with her team during Pandemic.
Party President Ankur Sharma expressed hope that Party will be further strengthened with female participation and urged public of Jammu Province to join IkkJutt Jammu in large numbers for Political Empowerment and Political Liberation of Jammu. Others present were Ashwani Sharma, Harish Kapoor, Ajay Singh, Manik Jamwal, Kamal Warikoo, Tilak Raina and ors.