Jammu
Huge resentment against BJP over clubbing Poonch, Rajouri with Anantnag, We will not vote in parliamentary elections, says Locals; BJP has implemented hurriyat agenda: Senior journalist
Huge resentment against BJP over clubbing Poonch, Rajouri with Anantnag, We will not vote in parliamentary elections, says Locals; BJP has implemented hurriyat agenda: Senior journalist
POONCH TODAY NEWS
POONCH: People from every section of the society have expressed their resentment against the draft report of the delimitation commission and BJP, alleging that the entire exercise was conducted without understanding the real facts on the ground.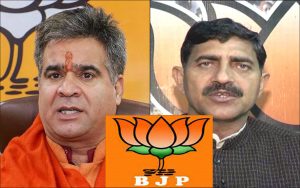 Locals said that they voted BJP to power and remained united during militancy days by protecting the boundaries of the nation, but BJP back stabbed the aspiration of the people of Poonch and Rajouri district. They said, what Pakistan and pro Kashmir leaders failed to do, BJP did that with the people of Poonch and Rajouri. "By clubbing Poonch and Rajouri with Anantnag on new MP seat, BJP seems to have implemented a hurriyat agenda and nationalist people of Poonch and Rajouri will not tolerate this." This was stated by a senior journalist, Ajaz Kazmi, while talking to "POONCH TODAY". Kazmi further said, "Militancy started from Anatnatng  district during 1989 and this very district remained epicenter of militancy, but its shocking for the nationalist people of Poonch and Rajouri that BJP government has clubbed these nationalist districts with a district which remained in news for militancy culture and this is very unfortunate. BJP has insulted us badly for its vote bank politics". Few days ago, J&K BJP president Ravinder Raina, while talking to a local portal at Jammu said that people of Poonch and Rajouri are happy with this delimitation exercise, but the ground reality speaks a different language. There is huge resentment going on against BJP over this decision. Even local Poonch BJP leaders are shocked and due to party discipline, they are not coming openly to criticize this. From every corner of Poonch and Rajouri district, people have shown extreme resentment against BJP and said that BJP has backstabbed their aspirations and they will not forget this till their last breath.  Some prominent people, on the condition of anonymity, said, "BJP president Ravinder Raina and sitting MP Jugal Kishore have betrayed us badly  and time will take them to task for this historic blunder. It's a fact that J&K BJP is brain less and we have said this many times, but with this decision against Poonch and Rajouri district, we are now 100% sure that BJP leaders of J&K are more than fools as they have murdered our sentiments badly."
An eighty years old, Jagdish chander of Rajouri, said, "The day is not far away when people from majority community of the country will ignore BJP because the saffron party has failed to protect the interest of nationalist people throughout the country from New Delhi to Maharashtra to West Bengal, and latest example of clubbing Poonch, and Rajouri districts with Anantnag will prove  as a historic blunder and generations of generations will not spare BJP for this." added "We want to remain a part of Jammu-Poonch seat and if BJP and Delimitation commission fail to take this decision back, then I can say that BJP will have to suffer heavily throughout India for not protecting nationalist people." Even former legislators Ajaz Jan and Shah Mohd Tantray also questioned the intention of the government over clubbing Poonch and Rajouri district with Anantnag by creating a new MP seat. They also said that many areas of tehsil Mandi have been shifted to tehsil Surankote and it raises a question mark on the intention of the government. On ST reservation of all seats of Poonch district, both the leaders gave political comment, but showed their discontent on creating a separate seat for Poonch and Rajouri by clubbing the two border districts with Anantnag.  Meanwhile pahari leaders have also demanded ST status to pahari speaking people with political reservation; else they will hit on the roads. There is also a huge resentment against sitting BJP MP Jugal Kishore over this issue as locals alleged that the sitting MP has maintained a deliberate silence on the issue.
Satish Sasan, Pradhan, Shri Sanatan Dharam Sabha and a renowned senior BJP leader also expressed his anger against the delimitation commission by alleging that the commission has snatched the identity of Poonch district, which was once a historic state. Satish said, "This report is totally unacceptable and I request the government to reconsider this report. We are totally dependent on Jammu for everything. Our culture and other things are the same. People of Poonch and Rajouri are part and parcel of Jammu, but clubbing our districts with Anantnag is not a good decision and it will backfire." Satish also said that if the government fails to take this report back, people of Poonch and Rajouri will not vote in parliamentary elections. Similarly, many social, political and religious bodies have condemned this report and said that the people of Poonch and Rajouri remained united against Pakistan propaganda and militancy, but rather than rewarding the people of Poonch and Rajouri for their contribution for the nation, government has  back stabbed them and this would not be acceptable at any cost. Nishu Gupta, J&K UT Secretary of VHP also said that by this act of delimitation commission, Poonch has lost its identity. Senior congress leader Taj Mir and prominent personality Adv Mohd Zaman also expressed similar views against the delimitation commission. They said that this report is nothing but a mockery of the sentiments of the people of Poonch and Rajouri. Dr Sukhwinder Singh, a social activist also expressed his unhappiness over the draft report and said that the government should reconsider this report as clubbing Poonch and Rajouri with Kashmir region makes no sense. He said, BJP has implemented the greater Kashmir agenda of pro valley parties and Pakistan and it's very unfortunate. He said, "We were expecting a big reward from government in the shape of a separate member parliament seat for Poonch and Rajouri district, but by clubbing us with Anantnag in Kashmir division, the government has murdered our aspirations and this report needs to be taken back by the government. This act against nationalist people of Poonch and Rajouri will send a bad signal for BJP across India that the saffron party only gives preference to votes and not to the interest of the nationalist people."  Whereas, political observers believe that the government has played this move with a farsighted agenda which is in national interest, but going by the public cry in Poonch and Rajouri district, it would be interesting to see how the government goes ahead with the draft proposal of delimitation commission. Will Poonch-Rajouri remain a part of Jammu-Poonch seat or not? Only time will tell.