Jammu
Does Kavinder Gupta want to blackmail Kashmiri Pandits on target killings?
Does Kavinder Gupta want to blackmail Kashmiri Pandits on target killings?
POONCH TODAY NEWS
JAMMU: The target killing of a  Kashmir Pandit employee Rahul Bhatt, the other day by militants,  has evoked strong criticism from the members of Kashmir Pandit community.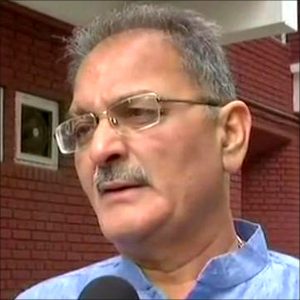 Rahul Bhat was killed by militants in his office and was cremated in Jammu with full honours. After the cremation, BJP president Ravinder Raina and former Dy. CM Kavinder Gupta reached the spot and offered their condolences with the bereaved family, but nobody expected the tough behavior of kashmiri pandits against the two BJP Leaders. Talking in an arrogant way, former Deputy Chief Minister, Kavinder Gupta tried to hurt the sentiments of pandit community when he said that "Mehbooba nahi ayegi, Farroq Abdullah nahi ayega, ham hi ayenge" and his illogical statement received harsh response from kashmiri pandits who questioned the role of BJP after 2014. One of the visibly upset Kashmir Pandit, said "BJP has done nothing for Kashmiri pandits, instead all out efforts are being made from BJP leaders to sell Kashmiri Pandits for their political interest. We want security but the BJP government has failed to save our youngsters. We are losing our people due to target Killings and BJP is playing politics." The unfortunate attitude of Kavinder  Gupta has shown that he wanted to blackmail Kashmiri pandits for vote bank politics that only BJP Can fulfill their wishes and not PDP or Congress. On one hand, Kashmiri pandits were going through tragedy at the cremation ground, but on the other hand, Kavinder's wrong gesture added salt to the wounds of pandits who were present there. It is pertinent to mention here that BJP government has remained under a big question mark on the safe return of pandits to valley and many times, Kashmiri pandits became victims of targeted killings leaving BJP leaders only to offer lip sympathy with bereaved families rather than planning a strong action against terrorism and for the protection of pandit community.