Jammu
With full security arrangements, Shri Budha Amarnath Yatra Poonch begins on a positive note
With full security arrangements, Shri Budha Amarnath Yatra Poonch begins on a positive note
POONCH TODAY NEWS
POONCH: Historic Shri Budha Amarnath Yatra started in Poonch district, the other day.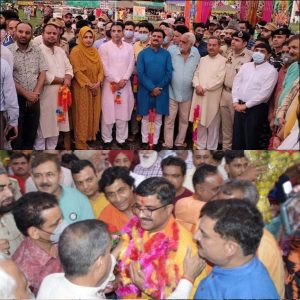 The said yatra was flagged off from Jammu by Divisional Commissioner Ramesh Kumar, ADGP Mukesh Singh, IGP Jammu. It is pertinent to mention here that this yatra remained suspended for three years, first before the abrogation of Article 370 and then for two years due to the outbreak of COVID-19. After a gap of three years, this yatra has started again with the efforts of Bajrang Dal and Vishaw Hindu parishad. Nearly 3,000 people in different batches have performed their darshan up to the time of filing this story and more rush is expected in days to come.   This yatra will culminate on 8th of August 2022 with the departure of historic Chari Mubarak from renowned Shri Dashnami Akhara temple. Elaborate security arrangements were put in place by the administrations of Rajouri and Poonch districts. Earlier the first batch of yatra was received at Rajouri by DIG Rajouri-Poonch Range; Dr Mohammad Haseeb Mughal; ADDC, Pawan Kumar; ADC Rajouri, Sachin Dev Singh; ACR, Imran Rashid Kataria; AD FCS&CA, Arif Lone and other concerned officers.
Attal Peethadeshwar Shri Shri 1008 Swami Vishwatma Nand Saraswati Ji Maharaj was also present during the event. The DC Rajouri also took stock of varied facilities put in place for the brief stay of the pilgrims at the yatra station including drinking water, power supply, toilet facilities, langer, facilities sanitation, medicare, security etc. He asked the concerned officers to make all possible efforts so that the yatris don't feel any inconvenience during their journey.
At BG, the yatra was received by SDM Mendhar Jahangir Khan, SDPO Sheezan Bhat, and BMO Mendhar Dr Parvaiz Khan. At Jaranwali Gali, the yatra was received by SDM Surankote and SDPO Surankote. At Poonch, the yatra was received by DDC Poonch Inderjeet, SSP Poonch Rohit Baskotra and DDC Chairman Tazeem Akhter. At Mandi, the first batch of yatra was received by BDC Chairman Shamim Ganai, Tehsildar Shazad Khan, ASP Poonch and SHO Mandi. At Poonch, elaborate arrangements were made by Nishu Gupta, J&K UT Secretary of VHP, with the full support of district administration. At Dashnami Akhara, the langar was organised by Advocate Sunil Sharma, Chairman Municipality Poonch and Dr Udeshpaul Sharma, son of Late Yashpaul Sharma, a well known leader and an ex-MLC. Prominent citizens from all the sections of the society  received the first batch of yatra. Those who were present on the occasion include Yatra officer Narinder Mohan Suri; Pardeep Sharma, ex-MLC; Satish Sasan, Pradhan Shri S.D Sabha; S Naridner Singh, Pradhan DGPC; Advocate Rajinder Singh, Advocate Mohinder Pyasa, Advocate Ronik Sharma, Abhinav Sharma,  Advocate Sanjay Raina, Taj Mir, renowned Anchor Pardeep Khanna, Adv Mohd Zaman, Prof. G.L Sharma, Basant Ram, Adv Iftikar Bazmi, DDC member Riyaaz Choudhary and many more. Adequate security arrangements were made by police right from BG to Poonch. CRPF top brass, lower rung CRPF officials, and  police officers  included ASP Poonch, DYSP DAR, DYSP Hqrs, DYSP Ops, SDPO Surankote, SDPO Mendhar, SHO Surankote, SHO Mandi, SHO Poonch led by SSP Poonch Rohit Baskotra were seen very much active as far as ensuring complete protection to the yatris and various yatra oriented locations. While receiving yatra at Poonch, DDC Poonch, SSP Poonch, DDC Chairman, ADDC Poonch, ADC Poonch,  DDC Riyaaz Naaz and workers of VHP and Bajrang Dal  assured full support of any kind to all the yatris and also prayed for global peace. Mukand Ram, a yatri from Gujrat, while witnessing an exciting atmosphere in the college ground, while talking to "POONCH TODAY", said, "Bahut suna tha Poonch ke bhaichare ke bare mein, aaj dekh bhi liya. Har saal ayunga babuji". Likewise, more yatris expressed happiness over elaborate arrangements made by locals, police and civil administration and also prayed for global peace.