Jammu
SE PWD Rajouri debars a contractor belonging to BJP party over allegations of getting tenders on fake documents; Inquiry ordered by top brass of PWD
SE PWD Rajouri debars a contractor belonging to BJP party over allegations of getting tenders on fake documents; Inquiry ordered by top brass of PWD
POONCH TODAY NEWS
RAJOURI: Time and again, published by "POONCH TODAY" that huge blunders were carried out in the office of SE PWD Rajouri and Executive Engineers of Rajouri and Nowshera divisions, but the government did not pay any heed to the issues exclusively reported by "POONCH TODAY", but rising from deep slumber and sensing trouble, top brass of PWD debarred a contractor for six months for over allegations of using foul means to get tenders with the involvement of few officials of SE PWD office Rajouri.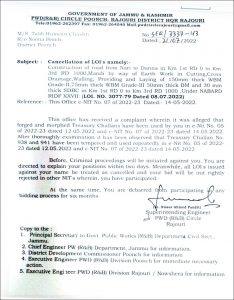 It is pertinent to mention here that said contractor, who was debarred by the department is real brother of the BJP president of Poonch district  and reportedly was involved in the practice of getting NABARD and various tenders by producing fake documents, said insiders in SE PWD office Rajouri. A few contractors brought this matter to the notice of the high ups of PWD and acting promptly; the said contractor was debarred from executing any work for the next six months and was also directed to appear in the office to explain his position. Whether the allegations leveled against the said contractor are true or false, only department officials can bring this picture in public domain which was still awaited up to the time of writing this story.  It's a necessary condition that while tendering, a non-refundable and non-transferable challan of Rs 6000 needs to be attached separately for every tender and is applicable to a single tender which has to be deposited in Treasury head 0059. First challan, the said contractor got under S.No 938 for construction of a road under NIT No 05 of 2022-23 dated 12-05-2022 and the same, after tempering under the same serial no 938 was used for construction of, road from Nari to Dana and shockingly, SE PWD Rajouri accepted the same.  He again tampered challan again under S.No 941. Reportedly, the  said contractor did not upload a registration card and preferred to use a renewal copy only. A temporary employee posted in the office of SE Rajouri is the main player who does all such types of frauds with the full backing of the top chair, said sources. He used to manage all NABARD tenders for blue-eyed contactors even without fulfilling the necessary formalities. The officials in question, used to reject tenders on their own and allot work as per their wishes, even at higher rates. In most cases, no document verification is done because there are huge reports of submitting fake documents by a few contractors. The said temporary employee sometimes even did not  take any bank guarantee or CDR and used to allot work without any guarantee. This incident has brought the reputation of the PWD department in Rajouri district to a new low. This same S.E PWD even violated the transparency act many times as none of his Executive Engineers of Rajouri and Nowshera divisions were seen obeying his orders as far as implementing the transparency act(RTI) was concerned. However, when this issue reached the top brass of PWD and by getting direction from high offices, SE PWD Rajouri vide his no SER/3337-43 dated 21/07/2022 cancelled LOIs of some works earlier allotted to the same contractor in question. In the order available with "POONCH TODAY", SE clearly wrote that "This office has received a complaint wherein it was alleged that forged and morphed Treasury challans have been used by you in e-NIT no 05 of 2022-23 dated 12-05-2022 and e-Nit No 07 of 2022-23 dated 14-05-2022. After thorough examination, it has been  observed that Treasury challan no 938 and 941 have been tempered and used repeatedly in e-Nit No 05 of 2022-23 dated 12-05-2022 and e-Nit No 07 of 2022-23 dated 14-05-2022." The said contractor was also directed to appear in the office of SE PWD before initiating criminal proceedings  against him. Meanwhile, as a face saving exercise, SE office reportedly did this because the matter was brought into the notice of top brass of PWD.
Now the question arises, if such open frauds are going on in the office of SE PWD Rajouri, then what is expected of various frauds which were carried out in the office of Executive Engineers of Rajouri and Nowshera divisions.  In local terminology, Rajouri division of PWD is popularly called "Fazz Division"(Fraud division) but surprisingly, no action was ever taken by the government against the erring officials. A high level inquiry is needed from the government to find a number of multi-crore frauds which were executed on paper in PWD divisions of Rajouri and Nowshera besides the office of SE PWD Rajouri to bring to book those who challenged the system with their corrupt practices. Will the Commissioner/Secretary PWD act? Only time will tell.