Jammu
Sawjian Accident: Lt Governor visits DH Poonch to enquire about health of civilians who were injured in a road accident
Sawjian Accident: Lt Governor visits DH Poonch to enquire about health of civilians who were injured in a road accident
POONCH TODAY NEWS
POONCH: Eleven people, including four women, died and 29 more were injured when an overcrowded mini-bus plunged into a deep gorge in Poonch district, the other day.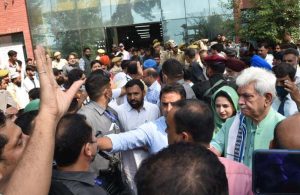 The bus was on its way to Poonch from Gali Maidan when it met with the accident near Brari Nallah in the border belt of Sawjian.   Lieutenant Governor Manoj Sinha, who was in Poonch at the time of accident,  visited District Hospital, Poonch,  to enquire about the health of civilians who were injured in a tragic road accident at Sawjian and met the relatives and doctors treating the injured. The Lt Governor announced an ex-gratia of Rs. 5 lakh each for the Next of Kin of those who lost their lives and Rs. 1 Lakh for those who have been seriously injured in the accident.
The Lt Governor expressed grief over the loss of lives in the unfortunate accident and directed the Police and Civil authorities to provide best possible treatment to the injured. "Saddened by the loss of lives due to a road accident in Sawjian, Poonch. My heartfelt condolences to the bereaved families who lost their loved ones. I pray for the speedy recovery of the injured", said the Lt Governor. The five civilians, who were seriously injured, have been airlifted to Jammu for treatment. Meanwhile, in an another accident near Manjakote area of Rajouri districrt, five persons were killed and 12 other injured. Due to the absence of road safety policy, we are losing our civilians regularly, said people of twin border districts of Rajouri-Poonch.