Jammu
LG's Special Governance Camp for PoJK displaced persons held in Poonch
LG's Special Governance Camp for PoJK displaced persons held in Poonch
POONCH TODAY NEWS
POONCH: District Administration Poonch organised a special governance camp for displaced persons of Pakistan occupied Jammu and Kashmir (PoJK) at Auditorium of Government Degree College Poonch, which received a massive turnout of Displaced Persons of PoJK.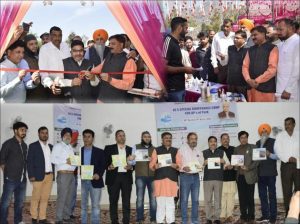 The LG's Special Governance Camp aimed to address the issues faced by the displaced from PoJK and provide them with necessary support and assistance in availing various government schemes.Deputy Commissioner, Inder Jeet, was the Chief Guest during the event. District officers disseminated information about various Government schemes during the camp.Speaking on the occasion, DC Poonch, highlighted the objective of the camp and stressed that the UT Government is committed for providing all possible assistance to the displaced persons of POJK as they are at par and equal with all citizens of India . He assured them that their grievances would be addressed in a time bound manner. The LG's special governance camp for displaced persons of PoJK provided an opportunity for them to voice their concerns and avail of various government schemes, such as skill development, self-employment, social assistance, studies, sports, and financial inclusion.
On the occasion, the members of PoJK Displaced Persons Committee shared their experiences and the struggles faced by their forefathers during the partition. Senior BJP leader and former MLC Pardeep Sharma also spoke on the occasion. The speakers also thanked Central Government and LG administration for taking this massive initiative for refugees of PoJK.
The camp was attended by ADDC Poonch, GM DIC, CEO TOURISM, District Employment Officer, DIO Poonch, DYSSO, CEO (Education), LDM J&K Bank and other District Officers, besides the representatives of POJK Displaced Persons Committee Poonch.