Jammu
Weekly Block Diwas: DC Rajouri presides over public outreach camp at Panjgrain
Weekly Block Diwas: DC Rajouri presides over public outreach camp at Panjgrain
POONCH TODAY NEWS
RAJOURI: As a part of the weekly Block Diwas, Deputy Commissioner Rajouri, Vikas Kundal  chaired a public outreach camp here at block Panjgrain to listen and redress the public grievances at people's doorsteps.
During the public outreach camp, the public and their representatives highlighted a wide range of issues and demands of their areas. They demanded macadamization of roads, upgradation of Govt institutions, paucity of staff, better health care facilities, scarcity of water etc.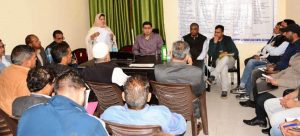 Officers of different departments also briefed the public about a number of schemes being implemented in the district and motivated them to avail the benefits of the same. After giving a patient hearing to the issues projected by the public during the event, the Deputy Commissioner assured them that all their genuine concerns would be redressed in a phased manner.
In his address during the public outreach camp, the Deputy Commissioner said that the Block Diwas ensures doorstep public service delivery and redressal of the genuine grievances of the common man.
He also highlighted that the District Administration is working on a multipronged strategy for the holistic development of all the areas of the district and also sought the active cooperation of the general public in achieving the development objectives of the district.
He called for coordination among the departments and PRIs to achieve desired development objectives besides timely intervention and action to mitigate the sufferings of the people. He also highlighted services being provided by different departments through online mode and urged the public to avail the benefits of the same. While highlighting the measures being taken by the District Administration to eradicate drug abuse, he also sought the active cooperation of the general public in making Rajouri a drug free district.
In response to the issue of the speedy implementation of JJM, the DC said that dedicated efforts are being made to complete the work on JJM schemes in time to provide necessary benefits to the public.
Responding to the other issues and demands highlighted during the public outreach camp, the DC said that timely and quality disposal of the issues of the general public is the top priority of the district administration and asked the officers to work with added zeal to mitigate the sufferings of the general public. He also passed on spot directions to the concerned departments for ensuring the redressal of the issues highlighted by people on priority and in a time bound manner. In conclusion, the public outreach camp at Panjgrain under the weekly Block Diwas program provided an effective platform for the public to raise their grievances and demands, and for the government officials to listen to them and take necessary actions to address them.
Officers who accompanied the Deputy Commissioner during the public outreach camp were CPO, Mohammad Khurshid; ACP, Sheraz Chowhan; DSWO, Wakeel Ahmed Bhatt and other district and sectoral officers.