Jammu
DC Jammu conducts extensive tour of Dansal block
DC Jammu conducts extensive tour of Dansal block
POONCH TODAY NEWS
JAMMU: To get first-hand account of the public grievances, Deputy Commissioner, Avny Lavasa conducted an extensive tour of the Bhalwal block and listened to issues of locals. Tehsildar, Druv Gupta; BDO, Johny Kumar along with PRIs, public delegations besides scores of individuals were present in the camp during which they apprised the Deputy Commissioner about the problems being faced by them in day to day life.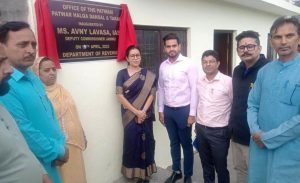 During the tour, the Deputy Commissioner inaugurated five Patwar Halqa offices at Dansal, Tarah, Kanyala, Kishenpur, Kharta.
Later, the Deputy Commissioner held a grievance redressal camp at Kishenpur Kharta. Local Sarpanch, Romesh Singh apprised the DC regarding major issues which mainly pertained to the supply of water and electricity, revenue services, road connectivity, upgradation of school, cleanliness and sanitation. The Deputy Commissioner gave a patient hearing to the PRI member and passed on the spot directions to the concerned officers for quality redress of their genuine grievances. She assured that the highlighted issues of public importance will be taken up with higher authorities besides all the pendency and public service delivery slackness shall be reviewed thoroughly. She directed the officers to leave no stone unturned to provide maximum benefits of government welfare schemes to the people.
The Deputy Commissioner also impressed upon the officers to work with zeal to achieve the targets ensuring the delivery of the benefits to the rural masses. The Deputy Commissioner also planted a sampling during a plantation drive at Dansal.