Jammu
Who is protecting the blue-eyed officials of the health department involved in scripting various financial frauds?
Who is protecting the blue-eyed officials of the health department involved in scripting various financial frauds?
POONCH TODAY NEWS
POONCH: On paper, everything is complete, but the ground reality is different as far as the workings of the health department are concerned. The blue-eyed officials of the health department have formed a big nexus that has been operating in a silent and planned manner.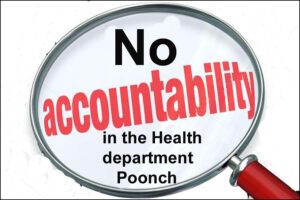 Those who remained in important positions from block to district level have given massive setbacks to the government exchequer under various schemes. There are a number of officials operating from different places in the health department in Poonch who are deeply involved in financial irregularities, but no inquiry has ever been ordered against them. Whether attachment of influential low-rung employees, equipment purchase scams, land scams, or various NHM frauds, to mention a few, tainted officials looted the government exchequer blindly and with open hands. Those in important positions in the department have set a target of hitting the bull's eye by any means. There is huge fraud in IEC and printing activities under NHM. From the office of MD NHM to district level, lakhs to crores of rupees were used illegally over the years under different schemes, but top officers of the health department never bothered to conduct an inquiry. Recruitments under NHM also remained under the radar, as people alleged that influence proved heavier than merit in some cases. Moreover, the hospital land encroachments scam is still not taken to its logical conclusion, and it shows that those who were part of this scam still have access to the corridors of power and fail every move of the district administration to get the land retrieved. The health department of Poonch has become a fish market where nothing is in order. More financial frauds at the health department in Poonch are under scrutiny and likely to come into the public domain, said officials in anti-graft agencies. Despite having a large number of financial frauds in the health department, top officers of the department never bothered to take action against those involved in multiple financial scams. A high-level inquiry is needed from the government to detect various malpractices that are still going on in the department and to take further action against the erring officials.