Jammu
 73rd Independence Day celebrated in Rajouri, DC Mohammad Aijaz Asad Unfurls the National Flag 
73rd Independence Day celebrated in Rajouri, DC Mohammad Aijaz Asad Unfurls the National Flag
SUSHIL DUTTA
RAJOURI: The 73rd Independence Day was observed across the district with great fervour and  national spirit. The celebrations were held at district Headquarter, all additional districts, sub-divisions and tehsil headquarters. The main function was organised at DPL grounds Rajouri where chief guest, Deputy Commissioner Mohammad Aijaz Asad unfurled the National Flag and took the salute of March Past.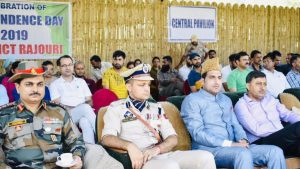 The contingents of JKAP, JK Executive Police, JK Lady Police, CRPF,  JK FPF,  besides the contingents of Senior Group Students and Junior Group Students of different private and Government schools took part in the March Past while DySP Dr.Ishan Gupta commanded the parade.
Prominent who are present on the occasion were DIG Rajouri Poonch Vivek Gupta, SSP Yougal Manhas, Ex-MLC Shri Vibodh Gupta, Ex MP Choudhary Talib Hussain, Ex-Vice Chairman of the Advisory Board for Development of Pahari speaking People Kuldeep Raj Gupta, retired officers, social activists, Educationist, Officers from Army and CRPF, District heads of different departments and public in large numbers.
In his Independence Day speech the Deputy Commissioner Mohammad Aijaz Asad while extending warm greetings to the Rajouri Public, paid rich tributes to the freedom fighters whose supreme sacrifices had won the freedom. He also paid homage to all the martyrs of Rajouri who laid their lives from time to time for safeguarding territorial integrity of state and nation. He mentioned the sacrifice of Sher-e-Nowshera Brigadier Mohammad Usman for the country and other martyrs who had sacrificed their lives while defending the motherland.
As far as development is concerned he added that with Rs 245 Cr District Plan for year 2018-19, district administration worked hard to provide the public better road infrastructure, healthcare facilities, quality education; road connectivity, electricity and water supply to left out villages besides ensuring social security to aged, physically challenged and widows; and self employment avenues to unemployed youth in the district. He also highlighted that the Governor Administration has sanctioned 244 number of languishing under different departments at an estimated amount of ₹360 crores. The languishing projects include roads bridges, water supply schemes, health infrastructure and augmentation of the Power sector projects in the district. He also accentuated that the classes for the First batch of MBBS at GMC Rajouri have been started from  makeshift accommodation at District Hospital. The building of GMC under construction would be completed within this year.
"Regarding health and social sectors, the DC said that projects like Rs 139 Cr Govt Medical College, Rs 5 Cr GNM School, projects for upgradation of District Hospital to 200 bedded capacity, additional infrastructure at SDH Sunderbani besides new buildings for PHCs, NTPHCs and health Sub-Centres and opening of Skill Development centre for specially abled  will be the game changer in improving health care facilities and raising the per capita income of the specially abled person.
Deputy Commissioner also highlighted the successful implementation of centrally sponsored schemes of health department like Aysushman Bharat, PM-SYM, PM-KISAN, etc. He said that district has done tremendously good in achieving the targets of PM-SYM and registration of the unemployed Postgraduate students in the district.DC further said the district administration is venturing hard to achieve inclusive development of all regions of district involving all sections of society and special attention has been given for ensuring participation of women in development process.Deputy Commissioner also mentioned the successful conduction of three successful election in the district.
He also said that a transparent, accountable, responsive and efficient administration is ensured in the district and persistent efforts are made to reach out to the public at their door steps for delivery of services and listening to their grievances.The DC said that Rajouri district is known all over the state and country for its rich cultural heritage and harmony among people of different faiths.He also added, "No divisive force should ever be allowed to disrupt this peaceful atmosphere".On the occasion, students from government and private institutions presented cultural programmes based on themes of patriotism and communal harmony.