Jammu
DDC Poonch for Plastic Free Campaign
DDC Poonch for Plastic Free Campaign
POONCH TODAY NEWS
POONCH: District Development Commissioner Poonch Rahul Yadav chaired a meeting regarding  "PLASTIC FREE COMPAIGN (SWACHHATA HI SEVA)"  here at DC office conference hall Poonch.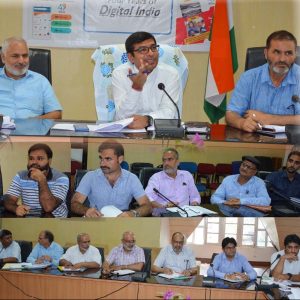 ACD Poonch, SDM surankote, SDM Mendhar, CMO, CEO Municipality, CEO education, District Social welfare Officer,  Tehsildar's, DPO beside all district and sectoral officer were present. During the meeting , DDC discussed about the  Plastic waste Free Compaign, in this connection DDC said that the main agenda of the compaign is to avoid usage of polythens  carry- bags and plastic. DDC also said  about the hazardous effects of polythene and plastic to environment.
In the meeting, several speaker and officers shared their views on the challenges and  potential solutions of Plastic waste.DDC said that the preparation and awareness generation will be organised from september 11 to october 01, 2019 beside collection of plastic waste  on 2nd oct., 2019 and disposal of plastic waste on scientific lines will commence from 3rd october to 27th  October, 2019. It was decided in the meeting that all concerned officers shall launch a series of initiatives to generate awareness towards discontinuing the use of all single use plastic .DDC stressed on the concerned officers to create mass awareness programme  including Rally, painting competition, quiz, sanitation drives in school and colleges during Swachhta Hi Sewa Campaign and  also said that in every ward one district officer will sensitize the people about the ill effects of polythene and plastic. District Administration assured that they will  make all out efforts to curb the menace of polythene use besides its disposal on scientific lines.