Jammu
Not smoking is essential part of a heart-healthy lifestyle: Dr. Sushil
Not smoking is essential part of a heart-healthy lifestyle: Dr. Sushil
POONCH TODAY NEWS
JAMMU: Emphasising upon one of the preventable cause for CVD morbidity and mortality due to smoking, Dr. Sushil Sharma conducted a day long camp at Rohi Morh Village near Miran sahib. More than 250 people  were examined ,evaluated ,free tests  were conducted and medicines were given as per the requirements. Smoking harms nearly every organ in the body, including the heart, blood vessels, lungs, eyes, mouth, reproductive organs, bones, bladder, and digestive organs, Dr Sushil said.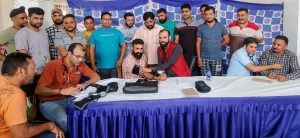 He said that the chemicals in tobacco smoke can damage the function of our heart and the structure and function of our blood vessels. This damage increases risk of atherosclerosis. Smoking is a major risk factor for heart disease. When combined with other risk factors such as unhealthy blood cholesterol levels, high blood pressure, and overweight or obesity, smoking further raises the risk of heart disease. Smoking is also a major contributor for peripheral artery disease.  People who have PAD are at higher risk for heart disease, heart attack, and stroke. The seriousness of the problem can be gauged from the fact that besides regulating tobacco smoke through various directives, the central government very recently has even banned e-cigarettes.
Contrary to popular notion that only regular smoker are at elevated risk, it has been seen that any amount of smoking, even light smoking or occasional smoking, damages the heart and blood vessels. Second hand smoke also can harm the heart and blood vessels. Second hand smoke contains many of the same harmful chemicals that people inhale when they smoke. Second hand smoke can damage the hearts and blood vessels of people who don't smoke in the same way that active smoking harms people who do smoke. Second hand smoke also raises children and teens' risk of future ischemic heart disease because it lowers HDL cholesterol, raises blood pressure, damages heart tissues. The risks of second hand smoke are especially high for premature babies who have respiratory distress syndrome and children who have conditions such as asthma.
One of the best ways to reduce the risk of heart disease is to avoid tobacco smoke. No matter how much or how long you've smoked, quitting will benefit you. Also, try to avoid second hand smoke. Don't go to places where smoking is allowed. Ask friends and family members who smoke not to do it in the house and car. Quitting smoking will reduce one's risk of developing and dying from heart disease. It is overwhelming to note that various researchers have studied communities that have banned smoking at worksites and in public places. The number of heart attacks in these communities dropped quite a bit. Researchers attributed these results are due to a decrease in active smoking and reduced exposure to second hand smoke.
Residents of the area Rohi Morh Gadi Garh- Sunny Sharma, Vijay Sharma, Dr Bittu, Babu Ram Bakshi, Ricky Sharma and Vicky Sharma appreciated the efforts of Dr Sushil and his team for conducting cardiac awareness camp in their area and sensitising younger generation for harmful effects of smoking.
Others who were part of this humane effort include Dr Daneshwar Kapoor, Dr Abdul Hameed, paramedics and volunteers include Kamal, Raghav Rajput, Vinayak Sharma, Aman Gupta, Akshay, Rajinder Singh, Harvinder Singh, Amandeep Singh, Maninder Singh, Gourav Sharma, Rohit Chalotra, Suresh Sharma, Sandeep Kohli and Raj Kumar.